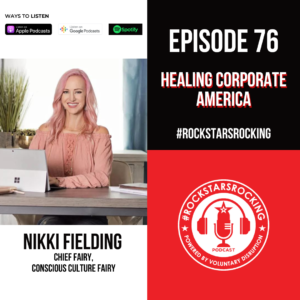 This episode of the #RockstarsRocking podcast features a rockstar looking to create more holistic corporate cultures; Nikki Fielding, Chief Fairy at Conscious Culture Fairy, out of the Tampa area.
We dive right into our interview this week, exploring how Nikki launched into the healthcare industry with a focus on creating healthier, more holistic corporate cultures, by using her past business experiences and strong branding on social media. This has already brought results, as she describes winning the "Notable Newcomer of the Year" award at the YOU! Powered Symposium this past February, put on by #RockstarsRocking former guests David Contorno (Episode 26) and Emma Fox (Episode 9).
Nikki describes how a life-altering accident at age 19 brought a lot into focus for her and crystalized her views on healing and creating healthy people through the mind, body, and spirit. She used that experience to build a life that focuses on empowering other people to take accountability for their health, and through that, inspiring others to do the same. One of the ways she hopes to inspire, is through continuing her podcast, which is focused on changing corporate culture to not strip the "humanity" out of people, but focus on employees as well rounded humans who do their best work when they are happy and healthy.
So, are you ready for more? Go ahead and grab your favorite ice-cold beverage and tap that play button, to tune in to this week's edition of the #RockstarsRocking podcast.
Episode Highlights:
Leaning on her background of business operation, strategy, and growth to "come out hot" with her new brand
Winning "Notable Newcomer of the Year" at the YOU! Powered Symposium
Empowering people to take accountability for their health
Bridging the expert, jargon heavy divide to bring employees healthcare breakthroughs
How a life-threatening accident at 19 changed the course of her life
Prioritizing self-care to stay healthy and fueled, so you can bring your best self for others
Her podcast focusing on corporate culture and changing it to be a healthier environment
So, I only have one question for you…?
Are you ready to rock…?!
Connect with Nikki:
Linkedin: https://www.linkedin.com/in/nikkifielding/
Youtube: https://www.youtube.com/channel/UCOjHUHfb_WHS97V4k2ZN_4Q
Instagram: https://www.instagram.com/conscious.culture.fairy/?hl=en
Email:  nikki@consciousculturefairy.com

This Episode is Powered by:

Enjoy The Show?
If you haven't done so already, please make sure you're subscribed to the show, #RockstarsRocking, wherever you consume podcasts and if you feel so inclined, please leave us a review – 5 stars would totally rock!