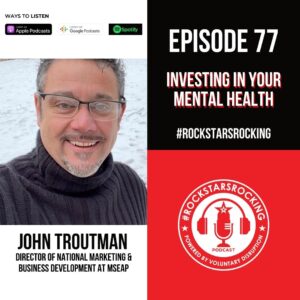 This episode of the #RockstarsRocking podcast features my rockstar friend, John Troutman; Director of National Marketing & Business Development at MSEAP, a national EAP firm, based out of Harrisburg, PA.
We delve right into a topic near and dear to my heart this week, talking all about mental health and how important it is for people to prioritize in their lives. John opens our interview detailing how he was a pastor for nearly twenty years before burnout forced him to re-evaluate his situation. He ultimately ended up still fulfilling his calling to help others, but through the lens of Employee Assistance Programs (EAP's), which connect employees with resources they need to help them deal with the tensions and stresses in their lives.
John details why mental health and burnout are such important topics for individuals, employers, and brokers to focus and invest in, overcoming the stigma of reaching out for help, as well as what brokers should be looking for in a good EAP partner.
So, are you ready for more? Go ahead and grab your favorite ice-cold beverage and tap that play button, to tune in to this week's edition of the #RockstarsRocking podcast.
Episode Highlights:
How being a pastor lead him to the world of EAPs
You need to invest in your mental health, or you will be forced to deal with it
Overcoming the stigma surrounding mental health
EAPs and what brokers should look for
What sets MSEAP apart from competitors
Getting a baseball field built for his community
So, I only have one question for you…?
Are you ready to rock…?!
Connect with John:
Website: https://www.mseap.com/
Linkedin: http://linkedin.com/in/johntroutmaneapsolutions
Email: jtroutman@mseap.com

This Episode is Powered by:

Enjoy The Show?
If you haven't done so already, please make sure you're subscribed to the show, #RockstarsRocking, wherever you consume podcasts and if you feel so inclined, please leave us a review – 5 stars would totally rock!