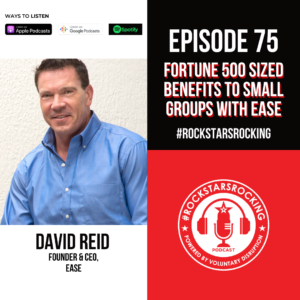 This episode of the #RockstarsRocking podcast features a mega rockstar of the benefits technology space, David Reid, Founder and CEO of Ease, headquartered in San Francisco, California.
We dive right into our interview this week, talking with David about how he fell into the insurance world from other aspirations, like so many people in the industry, and creating databases for his own use as a broker, which ended up becoming the seed idea for Ease, a benefits technology platform.
Through our discussion, we talk about the how's and why's of growing pains, in terms of bringing new carriers and vendors onto the platform, the tools and innovations they are currently working on to keep Ease at the forefront of technology platforms, and why they have so heavily focused on the small/mid-sized business market. David wraps up our interview with some great insights about why platforms like Ease can make small/mid-sized groups match or even out-perform groups 10x their size.
So, are you ready for more? Go ahead and grab your favorite ice-cold beverage and tap that play button, to tune in to this week's edition of the #RockstarsRocking podcast.
Episode Highlights:
Originally wanting to be a stockbroker and then falling into the insurance world
Creating databases to help himself, personally, that became the idea of Ease
Giving small businesses the ability to compete with Fortune 500 companies
Going through branding changes, and the future of Ease
Piloting a program for decision making support during enrollment
Working through the growing pains of bringing new carriers onto the platform
How digitization of enrollments can make a 10-life group as profitable as a 100 life group
Ease's annual users conference, EIC
So, I only have one question for you…?
Are you ready to rock…?!
Connect with David:
Website: https://www.ease.com/
Linkedin: http://linkedin.com/in/david-reid-6015749
Email:  reid@ease.com
This Episode is Powered by:

Enjoy The Show?
If you haven't done so already, please make sure you're subscribed to the show, #RockstarsRocking, wherever you consume podcasts and if you feel so inclined, please leave us a review – 5 stars would totally rock!