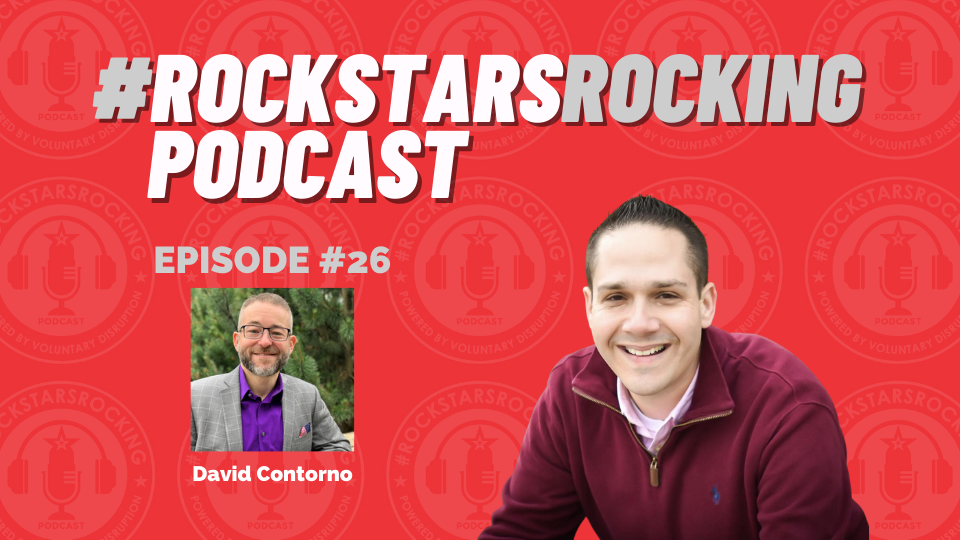 Podcast: Play in new window | Download
This episode of the #RockstarsRocking podcast features my rockstar friend, David Contorno, Founder, E Powered Benefits, out of North Carolina and Oregon.
David is sick and tired of employers and employees around the country being sick and tired of perpetual health insurance rate increases for lesser quality coverage. Year in and year out, it's a seemingly never-ending cycle of negativity for both employers and employees alike.
Forbes Magazine named David to their prestigious list of "America's Most Innovative Benefits Leaders" and has also been recognized as the "Broker of the Year" by BenefitsPRO Magazine.
David is often misunderstood because of his sincere passion to change the way employers and their employees purchase and consume health insurance. Because of his, often viewed, polarizing personality, and his relentless pursuit of breaking the status quo of healthcare, he's often seen as controversial which has left folks in the industry with either a love or hate feeling towards David. What they can all, typically, agree on though, is that his message is sincere and that he's pushing the massive ball up hill in the right direction that it needs to go – usually on his own.
What do I think? I think that David's passion can be viewed as too aggressive by some (so what) and that he's one of the only folks within his industry to take a stand and not back down. For this, how can I not respect him and his view?
So, have I got your attention yet? David's episode is the true definition of one that I would call, 'not to be missed'.
With that, it's time to sit back, grab your favorite cold beverage, and hold on tight as we dive into all that I describe above, and more, on this week's edition of the #RockstarsRocking podcast.
Episode Highlights:
Being controversial, and lonely, in the benefits world by going against the system
Our health insurance system is not broken, it's doing exactly what it was originally intended to do
Helping other health insurance brokers and advisers to not be so afraid to take a different path
Going to school for photography and almost ending up working for the government
So, I only have one question for you…?
Are you ready to rock…?!
Connect with David:
Website: http://www.epoweredbenefits.com/
LinkedIn: https://linkedin.com/in/dcontorno
Twitter: https://twitter.com/dcontorno
Email: dcontorno@epoweredbenefits.com
This Episode is Powered by:

Enjoy The Show?
If you haven't done so already, please make sure you're subscribed to the show, #RockstarsRocking, wherever you consume podcasts and if you feel so inclined, please leave us a review – 5 stars would totally rock!