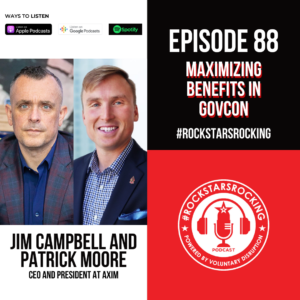 This episode of the #RockstarsRocking podcast features dual rockstars of the GovCon world; Jim Campbell, CEO of AXIM and TrUcare out of the Las Vegas area and Patrick Moore, President of AXIM and Vice President of TruCare out of the Greater Chicago area.
We have a double hitter this week, and jump right into our conversation with how both Jim and Patrick served in the Marines, fell into the insurance industry as a "carrier rep", and eventually found their path with their current companies. With a focus on the 'GovCon' (government contractor) sector, they operate with the intention of bringing both transparency and niche knowledge to benefits. A discussion about their upcoming "un-conference" in April 2023, mAXIMize 2023: The Competitive Edge, is an outstanding way for GovCon brokers, agents, providers, and employers to come together to network, learn sector specific strategies and information, and find ways that they can bring best in class benefits to employees.
So, are you ready for more? Go ahead and grab your favorite ice-cold beverage and tap that play button, to tune in to this week's edition of the #RockstarsRocking podcast.
Episode Highlights:
How they both joined the Marines and how they then transitioned to the insurance industry.
Moving from a traditional carrier rep to current path
Bringing transparency to health insurance for government contractors
Starting a business during the pandemic
Finding the correct people and information for your industry
mAXIMize 2023: The Competitive Edge "unconference" in April 2023
So, I only have one question for you…?
Are you ready to rock…?!
Connect with Jim & Patrick:
Website:  https://aximfsg.com/
Website: https://trucaregovcon.health/
LinkedIn – Jim: https://www.linkedin.com/in/jvcampbell/
LinkedIn – Patrick: https://www.linkedin.com/in/patrick-moore-6815b5a/
Email: jcampbell@aximsg.com / pmoore@aximfsg.com

This Episode is Powered by:

Enjoy The Show?
If you haven't done so already, please make sure you're subscribed to the show, #RockstarsRocking, wherever you consume podcasts and if you feel so inclined, please leave us a review – 5 stars would totally rock!