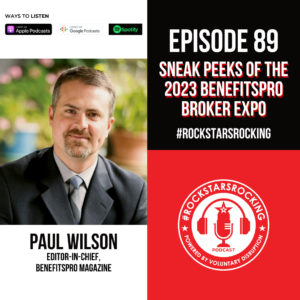 This episode of the #RockstarsRocking podcast features rockstar Paul Wilson, Editor-In-Chief of BenefitsPRO Magazine out of the Denver, Colorado area.
Join our discussion about how Paul transformed his love of literature and writing as a kid into a career within the benefits industry, with the magazine BenefitsPRO. He detailed how they started out as 'Benefits Selling Magazine' and rebranded with the expansion into the digital media world of the internet era.
We also dig into the upcoming BenefitsPRO Broker Expo, May 8th – 10th, 2023 in Atlanta, GA. Paul explains why BenefitsPRO Broker Expo is successful at leaning into industry strengths, some of the amazing speakers they've had in the past, including one of his own personal heroes, as well as some sneak peeks into what's in store for the 2023 expo agenda.
So, are you ready for more? Go ahead and grab your favorite ice-cold beverage and tap that play button, to tune in to this week's edition of the #RockstarsRocking podcast.
Episode Highlights:
How he transformed his love of literature and writing into a career
The story behind BenefitsPRO Magazine
How the BenefitsPRO Broker Expo leans into industry strengths
Amazing past expo speakers and how they try to break out of "echo chambers"
The good & bad changes he's seen in the industry over time
A sneak peek of the BenefitsPRO Broker Expo's 2023 agenda
So, I only have one question for you…?
Are you ready to rock…?!
Connect with Paul:
Website:  https://www.benefitspro.com/
LinkedIn: https://www.linkedin.com/in/paul-wilson-2339092b/
Email: pwilson@benefitspro.com

This Episode is Powered by:

Enjoy The Show?
If you haven't done so already, please make sure you're subscribed to the show, #RockstarsRocking, wherever you consume podcasts and if you feel so inclined, please leave us a review – 5 stars would totally rock!