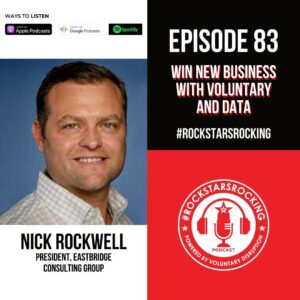 This episode of the #RockstarsRocking podcast features rockstar Nick Rockwell, President of Eastbridge Consulting Group, out of the Greater Phoenix area.
Our discussion with Nick has great insight into the benefits world, from a sideways perspective. Eastbridge Consulting uses data collection to help brokers create well rounded, needed benefit packages, and carriers find areas of the industry where they can bring products to support the broker's goals. From his background with Identity Protection products, he came into the industry as a disrupter from the very beginning, and his current work is designed to help brokers break out of the 'standard quo' to reach the goals they are already working towards with smart, innovative products.
So, are you ready for more? Go ahead and grab your favorite ice-cold beverage and tap that play button, to tune in to this week's edition of the #RockstarsRocking podcast.
Episode Highlights:
How he came into the insurance industry as a disrupter from the very beginning
How Eastbridge uses a "Netflix model" to help carriers understand how the market works
Finding ways to take the data they collect and turn it into tools for carriers and brokers to create successful enrollments
Modern Brokers – 'all in' or 'partnership' approach
Using complementary product lines to help brokers accomplish what they are already trying to do
Up and coming products on his radar
So, I only have one question for you…?
Are you ready to rock…?!
Connect with Nick:
Website:  http://www.eastbridge.com/
LinkedIn: http://linkedin.com/in/nick-rockwell-3567083
Email: nrockwell@eastbridge.com

This Episode is Powered by:

Enjoy The Show?
If you haven't done so already, please make sure you're subscribed to the show, #RockstarsRocking, wherever you consume podcasts and if you feel so inclined, please leave us a review – 5 stars would totally rock!