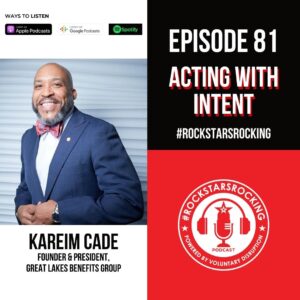 This episode of the #RockstarsRocking podcast features a rockstar of multiple areas, Kareim Cade, Founder and President of Great Lakes Benefit Group, out of the Detroit metropolitan area.
Kareim gives a great, high-energy discussion about the insurance benefits industry. We begin with a discussion about the two best things his mother did for him: 1. Pushing him to get a good education through HBCU Clark Atlanta University and 2. Eventually firing him from her agency. We then get into how "male, pale, and stale" agencies need to act with intent to bring in people outside the stereotypical white male agents and how not falling into the trap of only hiring people of the same background helped open his agency up to new opportunities and business deals. We round out with his and Andy Neary's "Black and White: Truth About Benefit Advising" video series, which peals back the cover on the realities of working in the insurance industry.
So, are you ready for more? Go ahead and grab your favorite ice-cold beverage and tap that play button, to tune in to this week's edition of the #RockstarsRocking podcast.
Episode Highlights:
Getting a degree from HBCU Clark Atlanta University for Insurance & Risk Management.
Getting fired by his mother and realizing he actually "fired himself"
Diversifying your company with intent and looking for opportunities to bring the industry to people who have been overlooked
How creating a diverse agency opened many hidden opportunities
"Black and White: Truth About Benefit Advising" video series with Andy Neary pealing back the cover on working in the benefits industry
So, I only have one question for you…?
Are you ready to rock…?!
Connect with Kareim:
Website:  https://www.greatlakesbenefitgroup.com/
LinkedIn: linkedin.com/in/kareimrcade
Email: kcade@greatlakesbenefitgroup.com

This Episode is Powered by:

Enjoy The Show?
If you haven't done so already, please make sure you're subscribed to the show, #RockstarsRocking, wherever you consume podcasts and if you feel so inclined, please leave us a review – 5 stars would totally rock!