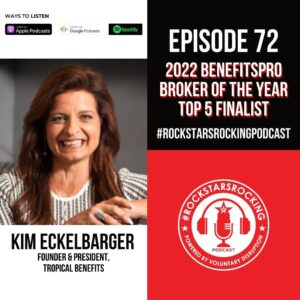 This episode of the #RockstarsRocking podcast features my good friend, rockstar Kim Eckelbarger, Founder and President of Tropical Benefits, out of the Tampa, Florida area.
We open up our conversation today celebrating Kim's amazing recognition as one of the five finalists for Broker of the Year by BenefitsPRO magazine and recognizing how and why she caught the eye of the industry. One of the ways she did this is through empowering HR Managers. From creating an HR roadshow to teach prospects how to be more effective in their duties and responsibilities, to teaching them how to communicate better with the C-Suite, to becoming an essential member of the decision-making team.
Beyond the day-to-day processes she puts into place, we also discuss the larger picture of her ethos and legacy. We talk about getting more women into the industry, how the industry needs to empower consumers to take charge of their healthcare and taking the step to sell her agency to focus on growing her legacy, while making sure her people were taken care of. Beyond her agency, she's also putting together a local healthcare network to get employees quality care at little to no out-of-pocket cost.
So, are you ready for more? Go ahead and grab your favorite ice-cold beverage and tap that play button, to tune in to this week's edition of the #RockstarsRocking podcast.
Episode Highlights:
Being recognized as a top 5 finalist for Broker of the Year by BenefitsPRO magazine
Teaching HR Managers how to be better communicators with their C-Suite
How to get more women and younger people into the industry
Creating an HR roadshow to turn competitors into collaborators
Making sure her people were taken care of when she sold her agency
Creating a bigger legacy by creating a local healthcare network
So, I only have one question for you…?
Are you ready to rock…?!
Connect with Kim:
Website: http://www.tropicalbenefits.com/
Linkedin: http://linkedin.com/in/kimberlyeckelbarger
Email:  kim@tropicalbenefits.com
This Episode is Powered by:

Enjoy The Show?
If you haven't done so already, please make sure you're subscribed to the show, #RockstarsRocking, wherever you consume podcasts and if you feel so inclined, please leave us a review – 5 stars would totally rock!