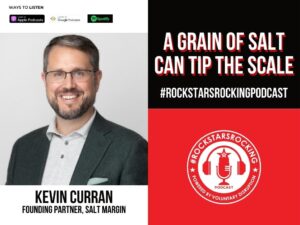 This episode of the #RockstarsRocking podcast features my rockstar friend, Kevin Curran, Founding Partner at Salt Margin, out of the Baltimore/DC area in Maryland.
Kevin joins us to talk about one of the biggest oversights he sees in the benefits industry, which is status quo approaches to non-medical benefits which cause employees to be under insured and employers to overpay. He discusses the "responsibility creep" happening, where brokers feel the need to be comprehensive experts in so many areas that they don't actually have an expertise in any. Throughout the interview, he discusses how best to solve these problems by refocusing on the benefits that matter most and finding the value in the margins.
So, are you ready for more? Grab your favorite beverage of choice and tap that play button, to tune in to this week's edition of the #RockstarsRocking podcast.
Episode Highlights:
His path to get out of the status quo carrier rep career path
Changing from a "brand killer" to Salt Margin
If you take the commission, you owe the client to bring them value
We need to challenge people on how they prioritize benefits
Negligence in the ancillary industry is widespread
Responsibility creep in broker "expertise"
The best things are always in the margins
So, I only have one question for you…?
Are you ready to rock…?!
Connect with Kevin:
Website: http://www.saltmargin.com/
Linkedin: http://linkedin.com/in/saltmarginkevin
Twitter: https://twitter.com/EBSMELLC
Email: kevin.curran@saltmargin.com
This Episode is Powered by:

Enjoy The Show?
If you haven't done so already, please make sure you're subscribed to the show, #RockstarsRocking, wherever you consume podcasts and if you feel so inclined, please leave us a review – 5 stars would totally rock!