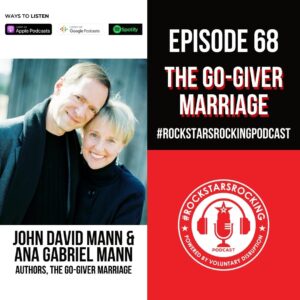 This episode of the #RockstarsRocking podcast features a first for the show – rockstar, John David Mann is back again, only this time, alongside his better half, Ana Gabriel Mann – Co-Authors of The Go-Giver Marriage, out of the Tampa, Florida area.
Our guests today, talk about their new book focused on the 5 secrets to creating a lasting marriage. Written within the "Go Giver" series, it fuses parables featuring recognizable characters from previous books, with Ana's in-depth explanations of the lessons and theories from her background as a psychotherapist. We go in depth of how they got the idea to write the book, the lessons that they expound upon within the book, as well as what's coming up next for them both.
So, are you ready for more? Go ahead and grab your favorite ice-cold beverage and tap that play button, to tune in to this week's edition of the #RockstarsRocking podcast.
Episode Highlights:
Deciding to write a book about marriage together under the "Go-Giver" name
Telling the lessons of strengthening a marriage through parable
Learning to throw out the scorecard, without becoming a doormat
Marriage is not fair
Appreciating differences with your partner
Making sure your mature enough to enter into a relationship
Ana's refusal to write a book about marriage without talking about the dark parts of marriage
The deep need for appreciation and recognition
What's the next step?
So, I only have one question for you…?
Are you ready to rock…?!
Connect with John and Ana:
Buy The Book: Amazon.com
Website: https://gogivermarriage.com/
Linkedin: http://linkedin.com/in/johndavidmann
Twitter: https://twitter.com/JohnDavidMann
Twitter: https://twitter.com/AnaGabrielMann
Instagram: https://www.instagram.com/anagabrielmann
Email: johndavidmann@me.com
This Episode is Powered by:

Enjoy The Show?
If you haven't done so already, please make sure you're subscribed to the show, #RockstarsRocking, wherever you consume podcasts and if you feel so inclined, please leave us a review – 5 stars would totally rock!