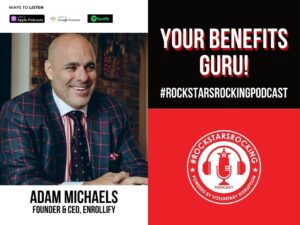 This episode of the #RockstarsRocking podcast features one of my long-time benefits rockstar friend, Adam Michaels, Founder and CEO of Enrollify, out of Southern California.
Our guest today digs into the rapidly changing world of benefits technology. From bad technology which 'helps people make bad decisions, quicker' and uses outdated data, to the good technology which can save clients and brokers money, and give better advice to employees, and can reduce friction points for enrollers.
So, are you ready for more? Go ahead and grab your favorite ice-cold beverage and tap that play button, to tune in to this week's edition of the #RockstarsRocking podcast.
Episode Highlights:
His path from carrier rep to founding Enrollify
The "hack" to quickly establishing credibility
Keeping clients from making bad decisions faster with AI technology
The rapid adoption of new technology
Are enrollment firms dead?
Overcoming confirmation bias
Virtual Enrollers – stop paying enrollers to sit and do nothing
So, I only have one question for you…?
Are you ready to rock…?!
Connect with Adam:
Website: https://enrollify.io/
Linkedin: http://linkedin.com/in/michaelsadam
Twitter: https://twitter.com/AHMICHAELS
Email: adam@myenrollify.com
This Episode is Powered by:

Enjoy The Show?
If you haven't done so already, please make sure you're subscribed to the show, #RockstarsRocking, wherever you consume podcasts and if you feel so inclined, please leave us a review – 5 stars would totally rock!