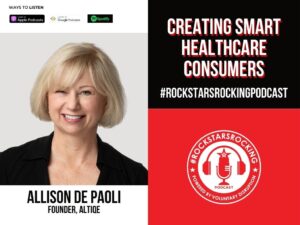 This episode of the #RockstarsRocking podcast features my rockstar friend, Allison De Paoli, Founder of Altiqe, out of the San Antonio, Texas area.
Allison opens our interview with a hilarious story of being shocked about winning "Most Innovative Healthcare Consultant" at the YOU Powered Symposium, which she won despite only returning to the major medical side of the insurance industry a few years ago. She also talks about how she grew up in a family of insurance consultants, striking her own path, and eventually returning to her roots and founding Altiqe – modernizing her approach by focusing on teaching clients to be better consumers healthcare.
We continue the conversation of modernizing processes with the changes she's made to enrollment and servicing strategies, the importance of electronic enrollment, and getting clients to recognize that they need to be involved with their money. She also touches on moving away from clients who can't or won't buy into her processes.
We round out our interview with the idea that when you are making big changes, the best way to get everyone on board is to create a "shared common enemy", rather than having the management and workers locked against each other.
So, are you ready for more? Go ahead and grab your favorite warm beverage and tap that play button, to tune in to this week's edition of the #RockstarsRocking podcast.
Episode Highlights:
Winning "Most Innovative Healthcare Consultant" at the YOU Powered Symposium
Growing up in the healthcare and employee benefits industry
Having a year-round strategy to teach clients to be better healthcare consumers
Modernizing enrollment strategies
Creating a shared common enemy
Social media marketing
So, I only have one question for you…?
Are you ready to rock…?!
Connect with Allison:
Website: http://www.altiqe.com/
Linkedin: http://linkedin.com/in/allison-de-paoli
Twitter: https://twitter.com/acdepaoli
Email: acdepaoli@altiqe.com
This Episode is Powered by:

Enjoy The Show?
If you haven't done so already, please make sure you're subscribed to the show, #RockstarsRocking, wherever you consume podcasts and if you feel so inclined, please leave us a review – 5 stars would totally rock!