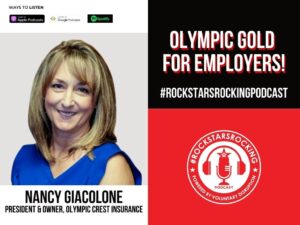 This episode of the #RockstarsRocking podcast features a rockstar killing the game with her marketing strategies, Nancy Giacolone, President and Owner of Olympic Crest Insurance out of the Pacific Northwest area.
We dive right into our interview with Nancy, getting into her marketing strategies and how she created her "2 Minute Tuesday" videos. With the Covid shutdown giving her the time to take courses, build a strategy, and implement the change, Nancy, along with her son, did all their production in house to find their style, create a library of content, and control production costs. She also stressed the need to understand that marketing is about playing the long game, fostering relationships so that they bring opportunities organically.
The second half of our interview focuses on building an authentic and mutually beneficial relationship with client groups. From making sure each side understands how their business and compensation works, to making sure your service and culture needs match up. From walking away from "sure" sales, to naming the questions that she thinks employers should be asking their brokers.
So, are you ready for more? Go ahead and grab your favorite beverage of choice and tap that play button, to tune in to this week's edition of the #RockstarsRocking podcast.
Episode Highlights:
"2-Minute Tuesday" video marketing
Be consistent, be brief, and get personal
Playing the long game and ignoring stats
Create a library of content for future use and repurposing
Being transparent with clients about business processes
Walking away from a sale
Finding the true pain points and why companies offer benefits
So, I only have one question for you…?
Are you ready to rock…?!
Connect with Nancy:
Website: http://www.olympiccrest.com/
Linkedin: http://linkedin.com/in/nancy-giacolone
Twitter: https://twitter.com/olycrestinc
Email: nancy@olympiccrest.com
This Episode is Powered by:

Enjoy The Show?
If you haven't done so already, please make sure you're subscribed to the show, #RockstarsRocking, wherever you consume podcasts and if you feel so inclined, please leave us a review – 5 stars would totally rock!