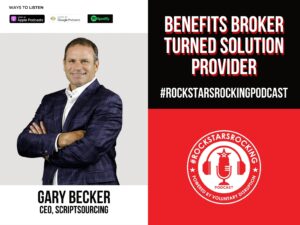 This episode of the #RockstarsRocking podcast features my rockstar friend, Gary Becker, CEO of ScriptSourcing out of Baltimore, MD and Naples, Florida.
Gary opens our podcast with a discussion about how he got a firsthand view of how cost mitigation strategies in the healthcare field, which didn't save costs by shorting customers, was sorely needed. He founded his own brokerage, Becker Benefits, but ultimately spends more of his time with ScriptSourcing, a company he created that allows customers to source their prescriptions directly for a $0 co-pay while saving money for their employer's insurance costs.
We dig into the reasons why folks might push back on using ScriptSourcing, from carriers and partners with misaligned priorities, to TPAs with hidden revenue streams, to brokers with 'big box' carriers who want to create shareholder value. We also discuss how a service like ScriptSourcing makes money, which is mainly accomplished through performance-based compensation based on how much savings they deliver, which he admits meant little to no client revenue for ScriptSourcing in the beginning.
The back half of our interview brought up a discussion on technology changes, and how PBMs went from not wanting to share any data about what they were paying, to realizing that they have to share data or risk being fired. He's also invested in salesforce data to be up to date as soon as a medication becomes available.
We finish up with a debate about being a business owner vs. a business operator, and how he's taking steps to become more of an owner, by hiring key people to operate the business for him.
Episode Highlights:
How he got started in benefits and founding Becker Benefits
ScriptSourcing, how it works and why it's needed
Performance based compensation and why it works for them
How the industry has changed in the past few years, in terms of data sharing
ScriptSourcing vs. GoodRx
Taking the steps to become a business owner, rather than a business operator
So, I only have one question for you…?
Are you ready to rock…?!
Connect with Gary:
Website:  http://www.scriptsourcing.com/
Website: http://www.beckerbenefit.com/
Linkedin: http://linkedin.com/in/garycbecker
Email: gary@scriptsourcing.com
This Episode is Powered by:

Enjoy The Show?
If you haven't done so already, please make sure you're subscribed to the show, #RockstarsRocking, wherever you consume podcasts and if you feel so inclined, please leave us a review – 5 stars would totally rock!