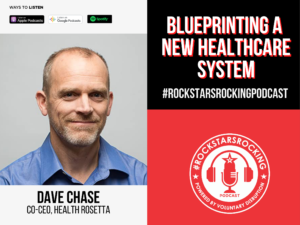 This episode of the #RockstarsRocking podcast features Dave Chase, Co-Founder of Health Rosetta and multi-time best-selling author, out of the Greater Seattle area.
We open our interview with an in-depth discussion of how Health Rosetta was formed and how Dave came up with the idea after a trip to a British Museum. Dave also details how they found their purpose within the current debate of whether the health care system is actually "broken" or working exactly as it was originally intended.
Diving deeper into the state of the health care system, we discuss the parallels between architects retrofitting existing buildings vs. building "green" buildings from the ground up and how that mirrors the debate of whether we should keep tweaking our health care system for small gains, or if we should build a new system entirely.
The back half of our interview focuses on how employers get their employees into better health plans, both as a way to validate the ethos that "employees are our most valuable asset" and as a way to control their own ballooning budgets.
Dave also tells us how he got to consult on the TV Medical Drama "The Resident", with some of the stories he told the writer's room making it into season 3 of the show. We then wrap up with a discussion of how he measures success and a massive success story that changed not only the company, but the surrounding community.
So, are you ready for more? Go ahead and grab your warm beverage of choice and tap that play button, to tune in to this week's edition of the #RockstarsRocking podcast.
Episode Highlights:
How Health Rosetta got its name and purpose
Is the health care system "broken" or working as intended?
Stop making tweaks to a broken system, and bring in architects to build a new one
Screening for "mission alignment" rather than "track history"
Sharing knowledge and being 'open source' where possible to help people
Building a system to 'certify' custom plans as Health Rosetta approved
The role of HR to do best by their employees by getting them out of the status quo
Consulting on the TV show "The Resident"
How to measure success and the "Rosen Story"
So, I only have one question for you…?
Are you ready to rock…?!
Connect with Dave:
Website:  https://www.healthrosetta.org
Linkedin: http://linkedin.com/in/chasedave
Twitter: https://twitter.com/chasedave
Email: dave@healthrosetta.org
This Episode is Powered by:

Enjoy The Show?
If you haven't done so already, please make sure you're subscribed to the show, #RockstarsRocking, wherever you consume podcasts and if you feel so inclined, please leave us a review – 5 stars would totally rock!