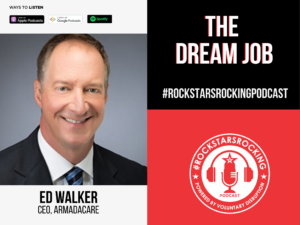 This episode of the #RockstarsRocking podcast features Ed Walker, CEO of ArmadaCare, out of the Baltimore, MD area.
We begin our interview with a lookback at his winding path to his original "dream" job and why he enjoys air travel so much. We dig in further by talking about mentorship and his concern that in a virtual world, younger professionals may not have the same mentorship opportunity that he was afforded at their age.
As we get further in depth, we discuss tips for career individuals looking to move towards their goals – Ed even details his recommendations and how to be proactive. On the flip side, he also has advice for leaders and company executives when it comes to talent attraction and retention.
We round out the interview discussing what magic secret sauce works on him, personally, to take a random salesperson's cold call, as well as what's on the horizon for ArmadaCare.
Ok, it's time to grab your favorite warm beverage and tap that play button, to tune in to this week's edition of the #RockstarsRocking podcast.
Episode Highlights:
His roundabout journey to his original "dream" job
The importance of mentorship in his own career
The struggle to find mentorship and networks in a remote workplace
Whether or not he believes asking for help is a good thing
Seeking out new opportunities
Not being shy when it comes developing your team's talent
What makes him take a salesperson's cold call
What's on the horizon for ArmadaCare
So, I only have one question for you…?
Are you ready to rock…?!
Connect with Ed:
Website:  https://armadacare.com/
Linkedin: http://linkedin.com/in/ehwalker3
Email: ewalker@armadacare.com
This Episode is Powered by:

Enjoy The Show?
If you haven't done so already, please make sure you're subscribed to the show, #RockstarsRocking, wherever you consume podcasts and if you feel so inclined, please leave us a review – 5 stars would totally rock!