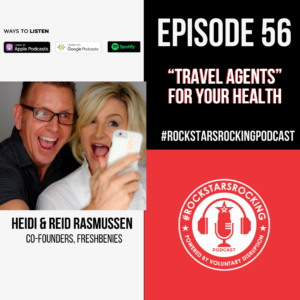 This episode of the #RockstarsRocking podcast features the rockstar duo Reid and Heidi and Reid Rasmussen, Co-Founders of freshbenies, out of the Dallas-Fort Worth, TX area.
Today's guests are a husband-and-wife duo; Reid with a background in benefits, and Heidi, who worked her way up the J.C. Penny chain from the sales floor to VP. They decided to take a shot at creating their own company after they found a hole in the benefit programs that Reid had been working with. This 'hole' helped to birth 'freshbenies', which combines telehealth, mental health, savings networks, and more, in one simple membership. In just a few short years, they've risen to National prominence and recognition, being named four times to the Inc5000 list of fastest growing companies.
In this week's episode, we begin by discussing how they decided to form their own company, Heidi taking the risk to join Reid as the second employee after the J.C. Penny restructure made her redundant, and rebranding their company using the one name that 100% of their market research participants hated. We get into the explosive growth of telehealth, bundled services, and how having a concierge partner can act as a "travel agent" for your health, leading you to deals, and steering you away from bad providers. Reid and Heidi also discuss building a company to work remotely from the beginning and how to keep everyone focused on their goals, as well as being an "employer of choice" in the current talent war following the large 'Great Resignation' that has definitely become the hot topic over the last many months. We round it out by talking about their clever "Brokers In Cars Getting Coffee" media segment, modeled after the famous Seinfeld series; "Comedians In Cars Getting Coffee".
So, are you ready for more? Go ahead and grab your favorite beverage and tap that play button, to tune in to this week's edition of the #RockstarsRocking podcast.
Episode Highlights:
How seeing a need to bundle health services lead to the creation of freshbenies
Rebranding their company with the name 100% of people polled didn't like
"Get it installed and stay quiet" – advice they were originally given
'Medical Advocacy' is like having a travel agent for your health
Telemedicine as a way to access mental health services
Building a culture of remote workers
Being an employer of choice in a talent war
"Brokers In Cars Getting Coffee"
So, I only have one question for you…?
Are you ready to rock…?!
Connect with Reid & Heidi:
Website: http://www.freshbenies.com
Linkedin: https://www.linkedin.com/in/heidirasmussen
Linkedin: http://linkedin.com/in/reidcrasmussen
Twitter: https://twitter.com/freshbenies
Email: heidi@freshbenies.com
This Episode is Powered by:

Enjoy The Show?
If you haven't done so already, please make sure you're subscribed to the show, #RockstarsRocking, wherever you consume podcasts and if you feel so inclined, please leave us a review – 5 stars would totally rock!