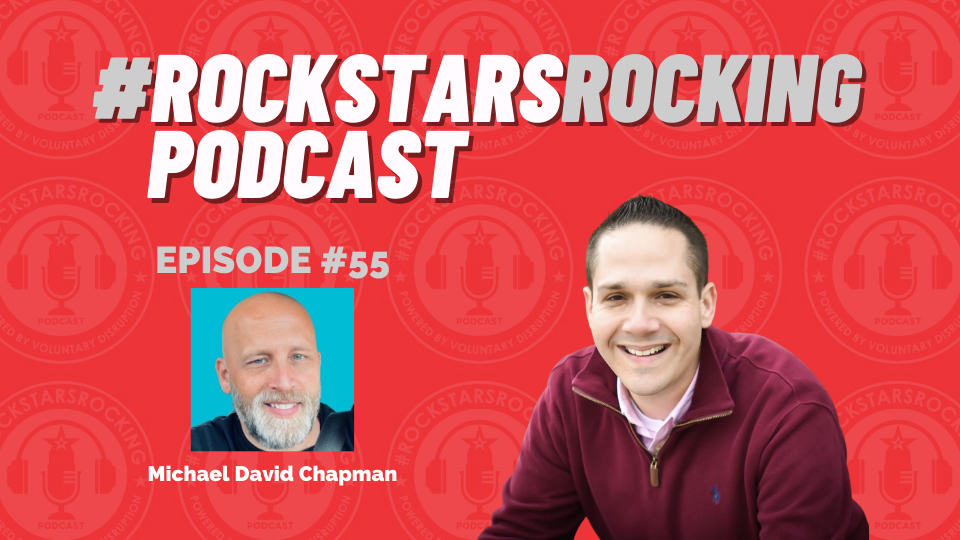 Podcast: Play in new window | Download
This episode of the #RockstarsRocking podcast features rockstar media marketing guru Michael David Chapman, Co-Founder of LeadIn Social, out of Durham, New Hampshire.
Michael has gone on quite the journey in both his professional and personal life, working for 26 years across multiple industries, before taking a leap of faith and leaving his #2 position in the company without another job lined up. He eventually co-founded LeadIn Social to provide bespoke, human oriented marketing for companies. He also does coaching, teaching sales for people who typically aren't in selling positions, as well as personal coaching to raise healthy, responsible men and women who share his experience of missing strong male role models growing up.
In this week's episode, Michael and I begin by discussing the toxic work relationship he was in, how it was a taxing factor to his personal life, which was also deteriorating to the point of divorce, and how that all lead to him leaving his job without a new job secured. We get into how he learned to manage bullies in his life, as well as the absence of strong, healthy, male role models in our society that contribute to the proliferation of these toxic relationships. He expands upon that by discussing his own lack of role models and male relationships, and how he is breaking that generational cycle by resisting the pull of substance addiction, seeking out healthy male relationships, and mentoring others to help them change the pattern as well.
So, are you ready for more? Go ahead and grab your favorite ice-cold beverage and tap that play button, to tune in to this week's edition of the #RockstarsRocking podcast.
Episode Highlights:
Taking the leap – leaving his toxic work relationship without another job lined up

Learning how to manage a bully

Seeking out healthy male relationships to heal an absence in his life

Resisting the pull of addiction

Championing strong, responsible men and trying to break the generational cycle of absent fathers

Creating personalized marketing campaigns that don't feel like the typical "bot" messaging

Using writing to work through grief and emotional reflection
So, I only have one question for you…? 
Are you ready to rock…?!
Connect with Michael:
Website: https://leadinsocial.com/
Linkedin: https://www.linkedin.com/in/mdcbizminister
Email: Michael@leadinsocial.com
This Episode is Powered by:

Enjoy The Show?
If you haven't done so already, please make sure you're subscribed to the show, #RockstarsRocking, wherever you consume podcasts and if you feel so inclined, please leave us a review – 5 stars would totally rock!