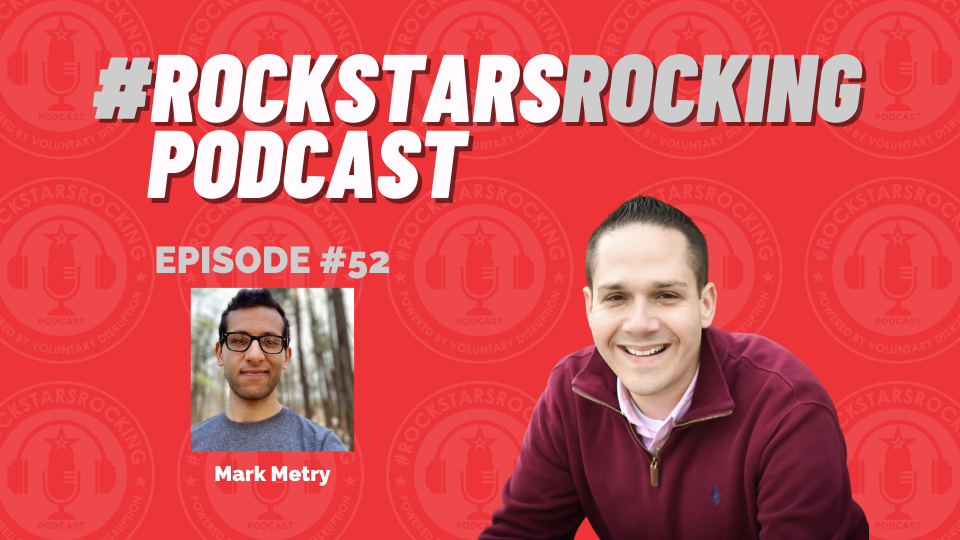 Podcast: Play in new window | Download
This episode of the #RockstarsRocking podcast features my rockstar friend, Mark Metry, TED Speaker, Best-Selling Author, Coach, and Podcaster, out of the Boston, MA area. 
"I help shy, stressed, and anxious people be themselves confidently in front of anyone." 
In a nutshell, that's how Mark describes himself… let me tell you something though – Mark does far more than that. 
What you can't tell by first glance is that Mark has suffered for his entire life. How might you ask? Try to imagine not being able to make direct eye contact with anyone and barely having any real friends. Imagine this shyness coming from mental health challenges, severe social anxiety, being a first-generation immigrant to the United States, and growing up impoverished, just to name a few. That's Mark and that's why Mark has dedicate his entire life to being of service to others by making an impact in the industries of mental health, careers, success, mindset, health and wellness, personal branding, speaking, and storytelling. 
Today, Mark is a Forbes featured keynote TEDx speaker, host of a global top 100 podcast, bestselling author and a documentary series cast member – he's ONLY 24 years old! 
Since coming out of his shell, Mark has been featured on more than 250 podcasts and media outlets like Forbes, Inc. Magazine, The Huffington Post, and many others. Heck, his former podcast, Humans 2.0 (now Social Anxiety Society) has been viewed more than 50 million times and he's had some of the most incredible guests on his show, including Gary Vaynerchuk and Tim Ferriss, just to name a couple. 
In this week's episode, Mark and I chat about his battle with severe social anxiety, depression, and the suicidal thoughts he once had, and how he was able to overcome his lifelong battle. We dive into how varying communication styles play a role in either helping or hurting folks who're going through what Mark once did, his best-selling book, and how Mark transformed his "Top 100 Podcast" into a podcast that would be much deeper and more meaningful to his current mission in life. 
So, are you ready for more? Go ahead and grab your favorite ice-cold beverage and tap that play button, to tune in to this week's edition of the #RockstarsRocking podcast.
Episode Highlights: 
–        Lifelong battle with severe social anxiety, depression, and suicidal thoughts
–        How television's 'Big Bang Theory' depicts social anxiety – offensive or accurate?
–        Communication styles with social anxiety – face to face vs. digital
–        How coping with social anxiety in your "real" life can also help online
–        Exposure therapy and how wearing ridiculous outfits in crowded places helped
–        Relaunching his "Top 100 Podcast" to become even more meaningful to him
–        "Screw Being Shy" his first book that he wrote during quarantine
–       His interactive coaching program for those who don't want to read another book 
So, I only have one question for you…? 
Are you ready to rock…?!
Connect with Mark:

Buy The Book: https://www.amazon.com/dp/B085T7D1X4/ref=dp-kindle-redirect?_encoding=UTF8&btkr=1
Website: http://markmetry.com/
Linkedin: https://linkedin.com/in/mark-metry
Twitter: https://twitter.com/VUDreamOfficial
Email: markmetry722@gmail.com
This Episode is Powered by:

Enjoy The Show?
If you haven't done so already, please make sure you're subscribed to the show, #RockstarsRocking, wherever you consume podcasts and if you feel so inclined, please leave us a review – 5 stars would totally rock!