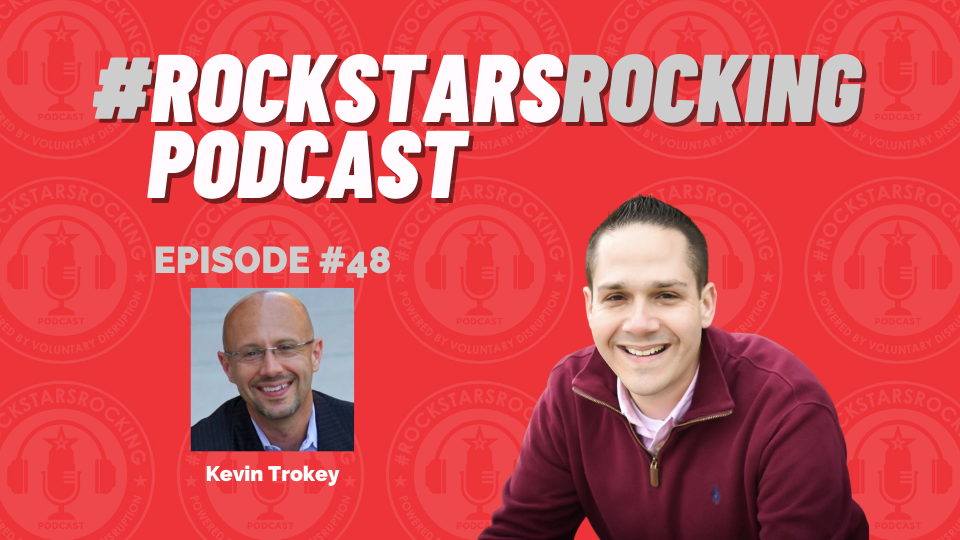 Podcast: Play in new window | Download
This episode of the #RockstarsRocking podcast features my rockstar friend, Kevin Trokey, Founding Partner and Coach, Q4intellignce, out of the Greater St. Louis, Missouri area. 
I met Kevin many years ago and have been fascinated with his marketing mind and how he applies it to the exciting world of insurance and employee benefits. 
Kevin believes deeply that when employee benefit advisers do their job the way it needs to be done, there is no strategic partner a business owner has that makes such an overall impact on their business – not their financial adviser, not their attorney, and not even their CPA. 
Kevin prides himself on brutal honesty and even likes to paraphrase the famous line, "if you can't handle the truth, I ain't your guy." 
Being a sought-after national speaker, writer, coach, adviser, strategist, and accountability partner – benefits advisers from all over the country count on Kevin and his firm, Q4i, to help bring them a more impactful marketing presence, help reach their sales goals, help deliver a more impactful client experience through their service, and to help grow their leadership skills. 
In this week's episode, I question why Kevin refers to himself as an "insurance industry antagonist" and his thoughts on profitablity, even smaller profits, vs. being out of business entirely. We then dive feet first into marketing, which was a true pleasure for me, since I believe Kevin has one of the top marketing minds in this space. 
So, it's about that time to grab your favorite delicious beverage of choice, sit back and relax, and tap that play button, to tune in to this week's edition of the #RockstarsRocking podcast. 
Episode Highlights: 
–        Being a self-proclaimed "Insurance Industry Antagonist"
–        How he believes benefit pros perpetuate damaging myths, systems, and practices
–        It's better to make less profit then be out of business
–        Advisers turning away business because they refuse to meet prospects where they are
–        Marketing is mandatory for insurance and employee benefit advisers
–        Balancing the prospecting vs. the marketing dial to keep a steady pipeline of business
–        How critical it is to actually be involved in your marketing
–        Your clients don't expect free, they expect great results 
So, I only have one question for you…? 
Are you ready to rock…?!
Connect with Kevin:
Website: http://q4intel.com/
Linkedin: https://linkedin.com/in/kevintrokey
Twitter: https://twitter.com/kevintrokey
Email: kevin@q4intel.com

This Episode is Powered by:

Enjoy The Show?
If you haven't done so already, please make sure you're subscribed to the show, #RockstarsRocking, wherever you consume podcasts and if you feel so inclined, please leave us a review – 5 stars would totally rock!