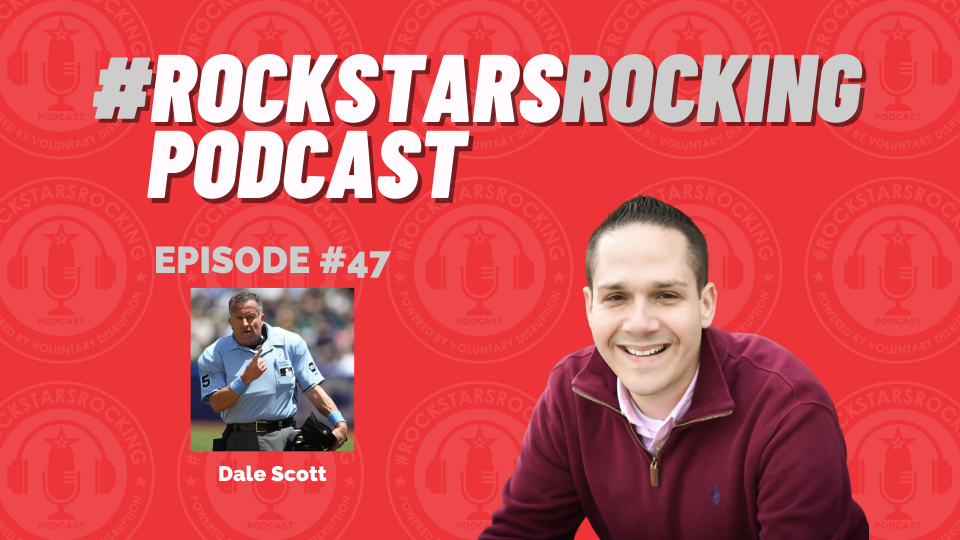 Podcast: Play in new window | Download
This episode of the #RockstarsRocking podcast features my rockstar friend, Dale Scott, Former 32 Year Major League Baseball (MLB) Professional Umpire, out of Eugene, Oregon. 
It all started with a "Cameo" request I made to have Dale cheer up my father who was diagnosed with C19. Dale was kind enough to send an incredible get well soon video to my dad (full recovery) and from there, I reached out to see if he'd be open to coming on the show. 
In today's episode, we dig into the ins and outs of umpiring as a professional in MLB, his views on all the recent changes with umpiring, and him deciding it was time for him to come out as the first openly gay umpire/referee in all of major league sports. Dale's been an inspiration for so many and he's got the best "strike-3" call that I've ever seen! 
So, it's about that time to grab your favorite iced beverage and tap that play button, to tune in to this week's edition of the #RockstarsRocking podcast. 
Episode Highlights: 
–        32 years umpiring professional MLB (Major League Baseball)
–        Policing pitchers using "sticky stuff" to cheat
–        Robo umps vs. humans
–        Video replay to get the calls right
–        Pros and cons of talking to the press after a controversial call
–        Coming out as the first openly gay umpire/referee in all of major league sports
–        Reactions from players and fans after coming out
–        Being an inspiration for others to be themselves proudly
–        Underrepresentation of umpires in the MLB Hall of Fame
–        Landing a publishing deal for his first book, due out in April of 2022 
So, I only have one question for you…? 
Are you ready to rock…?!
Connect with Dale:
Website: https://www.cameo.com/das5
Website: https://www.facebook.com/profile.php?id=100024243343037
Twitter: https://twitter.com/dalescottmlb5
Email: das5@outlook.com
This Episode is Powered by:

Enjoy The Show?
If you haven't done so already, please make sure you're subscribed to the show, #RockstarsRocking, wherever you consume podcasts and if you feel so inclined, please leave us a review – 5 stars would totally rock!