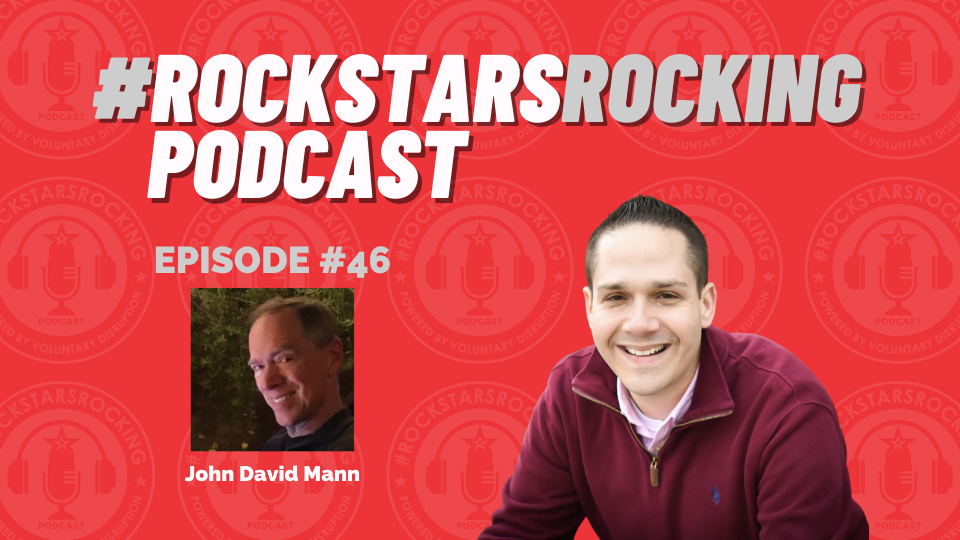 Podcast: Play in new window | Download
This episode of the #RockstarsRocking podcast features my rockstar friend, John David Mann, Multi-time International Best-Selling Author, out of the Zephyrhills, Florida area. 
There would be no 'Go-Giver' series of international best-selling books without John David Mann and his equally brilliant co-Author, Bob Burg. I, and millions of other loyal fans around the world, are so grateful to both rockstars for writing the literary gold that became my favorite business books of all time. 
I was so pumped to have Bob on the show late last year and I was thrilled when Bob introduced me to John. When I learned about John's newest project that he was working on – I knew I had to have him on the show, too. 
John is an award-winning author whose writings have earned the Nautilus Award, the Axiom Business Book Award (Gold Medal), Taiwan's Golden Book Award for Innovation, and the 2017 Living Now Award for its "positive impact on global change." 
He is co-author of the New York Times bestsellers "The Red Circle" with Brandon Webb, "The Latte Factor" with David Bach, "Answer" with John Assaraf and Murray Smith, and "Flash Foresight" with Daniel Burrus, and the global bestseller "The Go-Giver" with Bob Burg. 
His books are available in three dozen languages and have sold more than 3 million copies. His 2011 "Take the Lead" (with Betsy Myers) was named by Tom Peters and the Washington Post as "best leadership book of 2011." 
"Steel Fear," our primary focus for today's interview, is his first novel (coauthored with former Navy SEAL sniper Brandon Webb) that is scheduled to be released in July of 2021. The iconic "Jack Reacher" author, Lee Child, called it "sensationally good — an instant classic, maybe an instant legend." 
In today's episode, we dig into 'Ghost-Writing' vs. Co-Writing, the "Go-Giver" series of books, and how he met his co-writer of his first novel, "Steel Fear," and where the story idea came from. We also talk about mind-set with respect to how John didn't believe he could ever write a novel and then we tackle the dreaded, 'writers-block' that many of us face from time-to-time. Also, spoiler alert… the next book in the "Go-Giver" series is set to be released in March of 2022 – you'll have to tune in to hear the details! 
So, now it's time for you to grab your favorite ice-cold beverage of choice, tap that play button, and tune in to this week's edition of the #RockstarsRocking podcast. 
Episode Highlights: 
Ghost Writing vs. Co-Writing?

The Go-Giver Series of books

Where the idea for his first novel, "Steel Fear," came from

How he didn't think he could write a novel

Saying yes to an opportunity when you have so many reasons to say no

How inspiration for his work comes about

How to deal with writers-block

Spoiler alert, a sneak-peak into the newest 'Go-Giver' book, due out, March 2022 
So, I only have one question for you…? 
Are you ready to rock…?!
Connect with John David:
Buy The Book: Amazon.com
Website: http://johndavidmann.com/
LinkedIn: https://linkedin.com/in/johndavidmann
Twitter: https://twitter.com/JohnDavidMann
Email: johndavidmann@me.com

This Episode is Powered by:

Enjoy The Show?
If you haven't done so already, please make sure you're subscribed to the show, #RockstarsRocking, wherever you consume podcasts and if you feel so inclined, please leave us a review – 5 stars would totally rock!