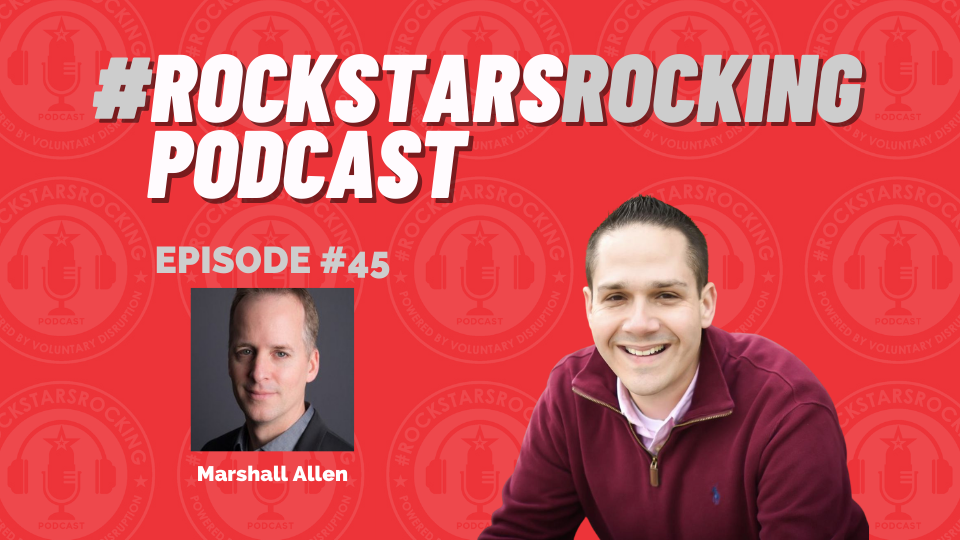 Podcast: Play in new window | Download
This episode of the #RockstarsRocking podcast features my rockstar friend, Marshall Allen, Author, Never Pay The First Bill, and Healthcare Reporter, ProPublica, out of the New York, New York area.
This week, I'm excited to have Marshall Allen talk all about his new, soon-to-be best-selling book (in my opinion) – "Never Pay The First Bill: and Other Ways to Fight the Health Care System and Win".
Marshall's stories as an award-winning healthcare reporter for ProPublica investigate why we pay so much for health care in the United States and get so little in return. His reporting has been featured in the New York Times, Washington Post, USA Today, and The Today Show, just to name a few.
So, you know what time it is… time for you to grab your favorite ice-cold beverage, tap that play button, and tune in to this week's edition of the #RockstarsRocking podcast.
Episode Highlights:
Covering healthcare reporting – the most boring thing he could imagine at the time
His new book, "Never Pay The First Bill: and Other Ways to Fight the Health Care System and Win".
Helping employees and employers fight back against our healthcare system
Why you should "Never Pay The First Bill" you receive from a medical facility
How to use Small Claims Court as an equalizer against big companies for fair treatment
Where is the line between making a profit and profiteering off of a sickness?
So, I only have one question for you…?
Are you ready to rock…?!
Connect with Marshall:

Buy The Book: www.Amazon.com
Website: https://www.marshallallen.com/
LinkedIn: https://linkedin.com/in/marshallallen
Twitter: https://twitter.com/marshall_allen
This Episode is Powered by:

Enjoy The Show?
If you haven't done so already, please make sure you're subscribed to the show, #RockstarsRocking, wherever you consume podcasts and if you feel so inclined, please leave us a review – 5 stars would totally rock!