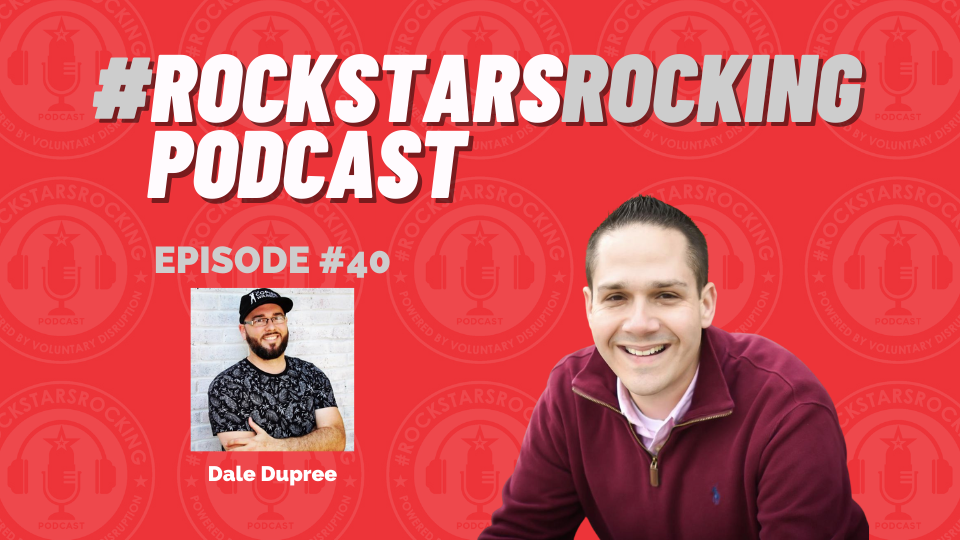 Podcast: Play in new window | Download
This episode of the #RockstarsRocking podcast features the 'Sales Rebellion' himself, Dale Dupree, Founder and CEO, The Sales Rebellion and Host of the Selling Local Podcast, out of the Orlando, Florida area.
I first learned of Dale Dupree and his rebellious ways via his thought provoking long form post messages on Linkedin. From there, I had the opportunity to hear Dale present during a large employee benefits industry conference and I was blown away by his raw and real message about sales and leadership.
Dale's message resonated with me instantly when I heard him talk about rising above the status quo bringing the love of sales back to selling.
Whether you consider yourself a rockstar salesperson or someone who doesn't view themselves as a salesperson at all, this interview was made for you. Afterall, whether we think we are in "sales" or not – let's face it, we are all in "sales" in some way, shape, or form. Heck, I have to "sell" my kids on why they should do this or shouldn't do that, every single day.
So, go ahead and click that play button and get ready for this week's edition of the #RockstarsRocking podcast.
Episode Highlights:
Starting his career as a literal "rockstar" in a metal band signed to a record deal at 17
Using his "passion for people" to focus his sales skills
Folks are always looking for sales "hacks," but the closer you look, the more you see you're not actually reaching people
Meet yourself where you are and build up from that
Don't always look for the 'destination' to the exclusion of ethics and legacy
Launching and creating his own book 'experience' with Augmented Reality (AR)
Rapid fire round of questions about sales beliefs and techniques
So, I only have one question for you…?
Are you ready to rock…?!
Connect with Dale:
Website: http://www.salesrebellion.com/
LinkedIn: https://linkedin.com/in/copierwarrior
Twitter: https://twitter.com/DaleCBS
Email: dale@thesalesrebellion.com
This Episode is Powered by:

Enjoy The Show?
If you haven't done so already, please make sure you're subscribed to the show, #RockstarsRocking, wherever you consume podcasts and if you feel so inclined, please leave us a review – 5 stars would totally rock!