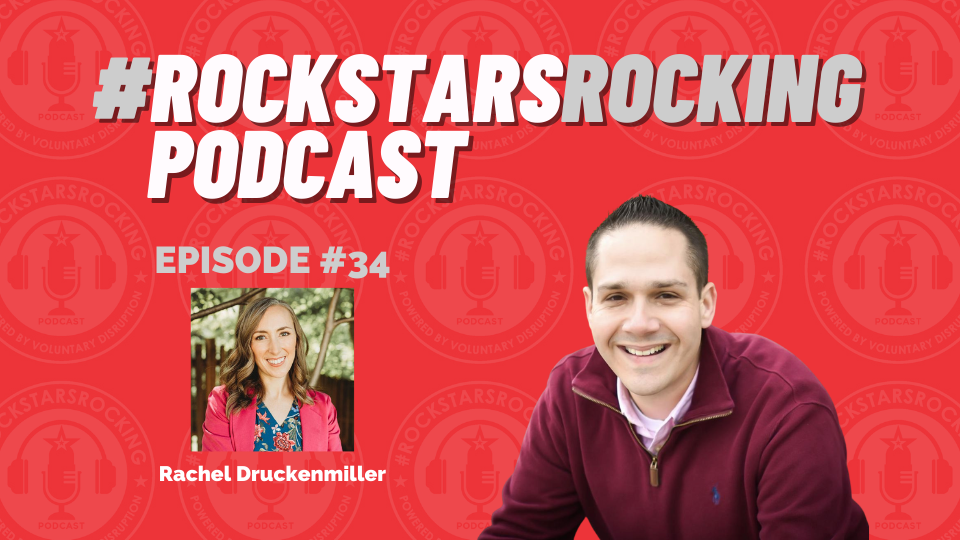 Podcast: Play in new window | Download
This episode of the #RockstarsRocking podcast features my rockstar friend, Rachel Druckenmiller, Founder and CEO, UnMuted, Keynote Speaker, Trainer, Singer, and Award-Winning Wellbeing Expert, out of the Baltimore-DC area. 
Dealing with overwhelm, burnout, disengagement and disconnection at work? Don't worry, Rachel is here to help. 
Describing herself as a catalyst and a trailblazer on a mission to… 
–        Activate and awaken HOPE, resilience and connection in leaders and teams
–        Unleash and unlock energy, engagement, creativity and possibilities in people and organizations
–        Facilitate experiences that invite people to rise up with resilience and connect at a human level 
Rachel creates dynamic and transformational learning experiences – keynotes and workshops – that are energizing, interactive, actionable and fun. Oh, and by the way, if you're lucky, she may even sing! 
In this week's episode, we dig deep into how she forged her path to start her own business and how she was excited to add singing into her keynotes. We also unlock the difference between what she describes as 'toxic positivity' versus being hopeful, optimistic and encouraging. Make sure you stick around to hear about her life changing car accident and how staying relevant is the key to her success. 
Tune in for all of this, and so much more, on this week's edition of the #RockstarsRocking podcast. 
Episode Highlights: 
–        Her entrepreneurial journey to start her company, UnMuted
–        Being ok with being weird, from public speaking to singing during her presentations
–        The difference between 'Toxic Positivity' and being hopeful, optimistic and encouraging
–        Pivoting during Covid, and reaching back to her roots, to focus on resilience and mental health
–        Staying relevant and knowing what people want and need, which is not your ego 
So, I only have one question for you…?
 Are you ready to rock…?!
Connect with Rachel:
Website: https://unmutedlife.com/
LinkedIn: https://linkedin.com/in/rachelbdruckenmiller
Twitter: https://twitter.com/Rachel_Druck
Email: rachel@unmutedlife.com
This Episode is Powered by:

Enjoy The Show?
If you haven't done so already, please make sure you're subscribed to the show, #RockstarsRocking, wherever you consume podcasts and if you feel so inclined, please leave us a review – 5 stars would totally rock!