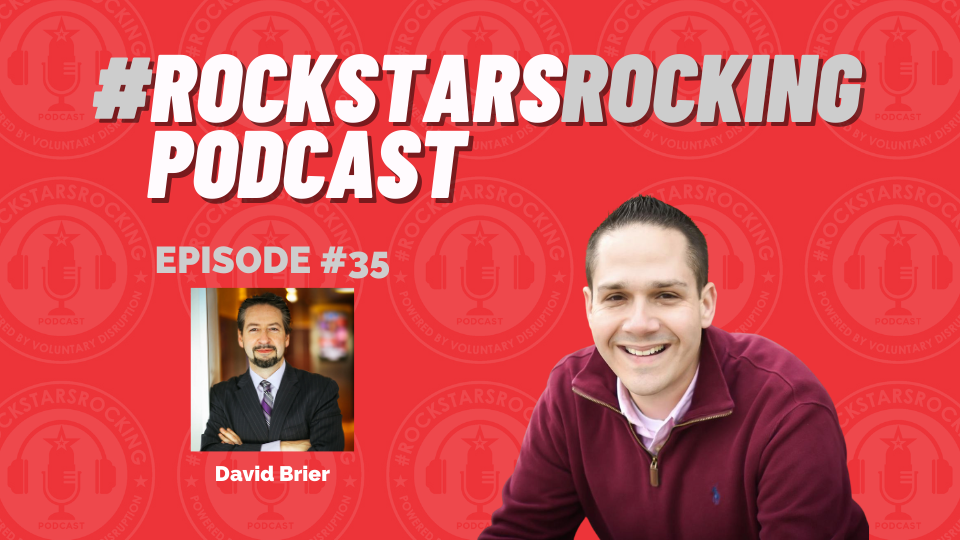 Podcast: Play in new window | Download
This episode of the #RockstarsRocking podcast features my rockstar friend, David Brier, President and Chief Gravity Defyer, DBD International, Slayer of the Mundane, Liberator of Awesome, Keynote Speaker, and Bestselling Author, out of Wisconsin.
"David Brier is brilliant with branding." Daymond John, Shark Tank and CEO FUBU
"David Brier is a branding genius who will revolutionize the way you do branding." Grant Cardone
You can already see, based on the two rockstars who've gone on record as calling David Brier "brilliant" and a "genius" when it comes to branding, why I worked so hard to secure David as a guest on this week's episode.
As you may have noticed from listening to prior shows, we usually keep each episode to about 15-25 minutes, tops. Forgive me though, because I couldn't help myself – David's interview ran more than 50 minutes, and I was not about to cut this brilliant genius off. Afterall, if he's generous enough to allow me the time to chat with him, then I owe it to all of you to let him speak.
This is part 1 of a 2-part episode, a first in #RockstarsRocking podcast history by the way.
David believes that "great brands are made" and the brand strategies he uses help eliminate wasteful tactics, lost sales, and confusing messages that brands put out every day.
David's work has been featured in ADWEEK, Forbes, Fortune, Fast Company, The New York Times, INC., and he's helped build such marquee brands that we're all familiar with such as Revlon, Estée Lauder, The New York Times Magazine, and so many others.
In this week's episode, part 1 of 2, we dive deep into how David enjoys working with small-medium sizes companies, in addition to the large and mega brands who hire him. David touches on how much a business should consider re-investing into marketing to grow their brand and even explains how there are free ways to do so as well. We move on over to his thoughts on keeping your social media presence diverse so you're not reliant upon one channel in case something beyond your control happens. Thus, owning your followers email addresses is a very valuable currency.
So, are you hooked yet? Tune in for all of this, and so much more, on this week's edition (part 1 of 2) of the #RockstarsRocking podcast.
Episode Highlights: 
–        Proactively choosing to work with small-medium size companies and leveraging their nimbleness to get faster and more creative results
–        Knowing how much to reinvest into marketing and growing your brand
–        Diversifying your social media channels so a platform outage or accidental purge doesn't derail your market presence
–        What differentiates a brand in the minds of people?
–        Domino's Pizza and their self-deprecating branding campaign
–        "The best brands are willing to be their own biggest threat" 
So, I only have one question for you…? 
Are you ready to rock…?!
Connect with David:
Website: https://www.risingabovethenoise.com/
LinkedIn: https://linkedin.com/in/davidbrier
Twitter: https://twitter.com/davidbrier
Email: David@risingabovethenoise.com
This Episode is Powered by:

Enjoy The Show?
If you haven't done so already, please make sure you're subscribed to the show, #RockstarsRocking, wherever you consume podcasts and if you feel so inclined, please leave us a review – 5 stars would totally rock!