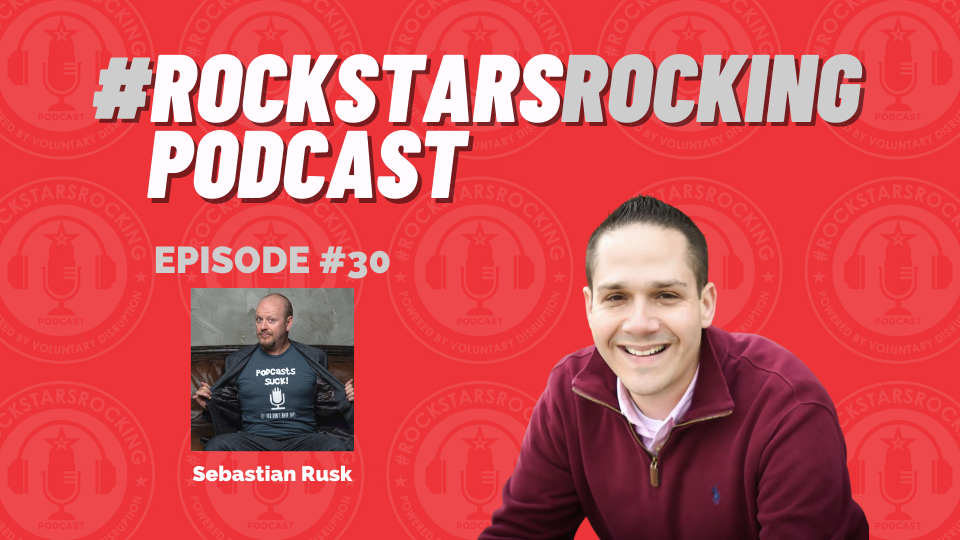 Podcast: Play in new window | Download
This episode of the #RockstarsRocking podcast features my rockstar friend, Sebastian Rusk, Founder, Podcast Launch Lab and Author, Podcast Host, Event Emcee, and Speaker, out of the Miami Fort Lauderdale area. 
To use Sebastian's own words, he helps marketers and entrepreneurs start a podcast – going from concept to launch in 90 days. 
I was so pumped to have Sebastian on the show, considering he's the guy that I hired to help me launch this show – I'm not only a fan, I'm his student and client. I can speak from the heart to tell you that Sebastian is the real-deal Holyfield when it comes to the art of podcasting and podcast launches. 
In this week's episode, we dig into some little-known facts about Sebastian's roots as a "Foodie," his multiple best-selling books, and his love for bow-ties – even in the blazing Miami sun! 
So, grab your favorite southern Florida beverage of choice – sit back and relax as you tune in for all of this, and more, on this week's edition of the #RockstarsRocking podcast. 
Episode Highlights: 
His original passion project, "Foodie Buzz"

Building his own brand in podcasting by founding the Podcast Launch Lab

Why he became a book author

His drive to help people launch their own podcast

His second best-selling book, Podcast Suck (If You Don't Have One) –

 

www.podcastssuck.com




"You gotta stand out" – sticking with his signature bow-tie look 
So, I only have one question for you…? 
Are you ready to rock…?!
Connect with Sebastian:
Website: http://www.podcastssuck.com/
Website: http://www.podcastlaunchlab.com/
LinkedIn: https://www.linkedin.com/in/sebastianrusk/
Twitter: https://twitter.com/sebrusk
Email: srusk@podcastlaunchlab.com
This Episode is Powered by:

Enjoy The Show?
If you haven't done so already, please make sure you're subscribed to the show, #RockstarsRocking, wherever you consume podcasts and if you feel so inclined, please leave us a review – 5 stars would totally rock!