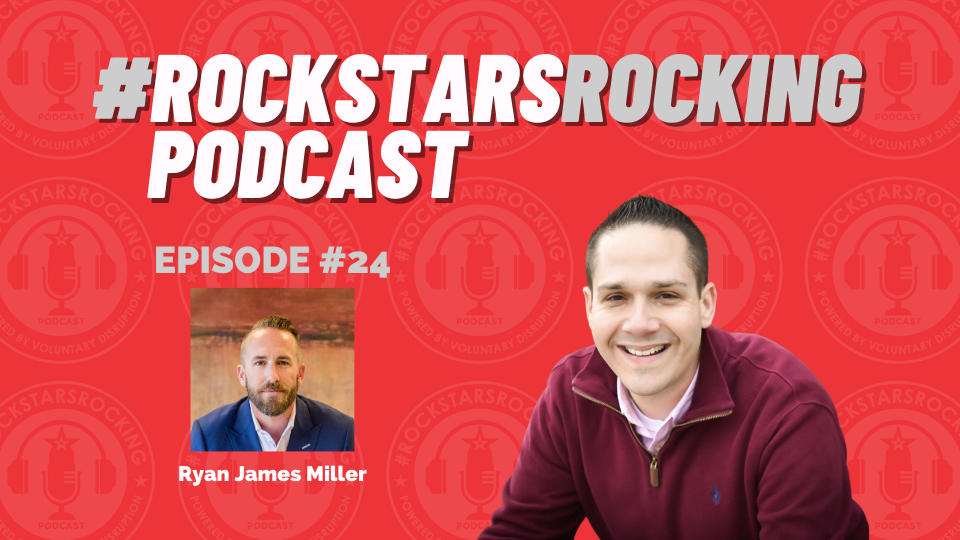 Podcast: Play in new window | Download
This episode of the #RockstarsRocking podcast features my rockstar friend, Ryan Miller, Coach to High Performers, Speaker, Trainer, Consultant to Industry Leaders, Podcast Host, and Entrepreneur, out of Orange County, CA.
Ryan started his business with $500 bucks to his name and he's tirelessly worked to ensure his dream could provide for his family. I'm proud to know Ryan, be a client of Ryan's, and to report that even though he's certainly been knocked down many times, his business is thriving!
Ryan coaches high performers and those who are aspiring to be one. He helps them to achieve all that they want out of life and business. Consulting industry leaders, creating strategic sales and marketing plans, developing leaders, and ensuring an incredible culture are just the tip of the iceberg to what Ryan brings to any professional or organization as a whole.
His single passion is helping people succeed in business, all while passionately promoting and living an 'authentic' lifestyle. As Ryan says, he is "an open book with many torn pages" and I hope you tune in for all of this, and more, on this week's edition of the #RockstarsRocking podcast.
Episode Highlights:
Coaching people to be the best versions of themselves

Helping people to produce the best outcomes in their business

His vlog (video blog) – sharing everyday situations that occur, a way to show authenticity

COVID19 crushed his business, costing him $20K a month in contracts

How he put himself back together to figure out a new way to keep his business going

Helping people admit when they need help as the only way to make it through
So, I only have one question for you…? 
Are you ready to rock…?!
Connect with Ryan
Website: http://www.ryanjamesmiller.com/
LinkedIn: https://linkedin.com/in/rjmsalespro
Twitter: https://twitter.com/rjmsalespro
Email: ryan@ryanjamesmiller.com
This Episode is Powered by:

Enjoy The Show?
If you haven't done so already, please make sure you're subscribed to the show, #RockstarsRocking, wherever you consume podcasts and if you feel so inclined, please leave us a review – 5 stars would totally rock!