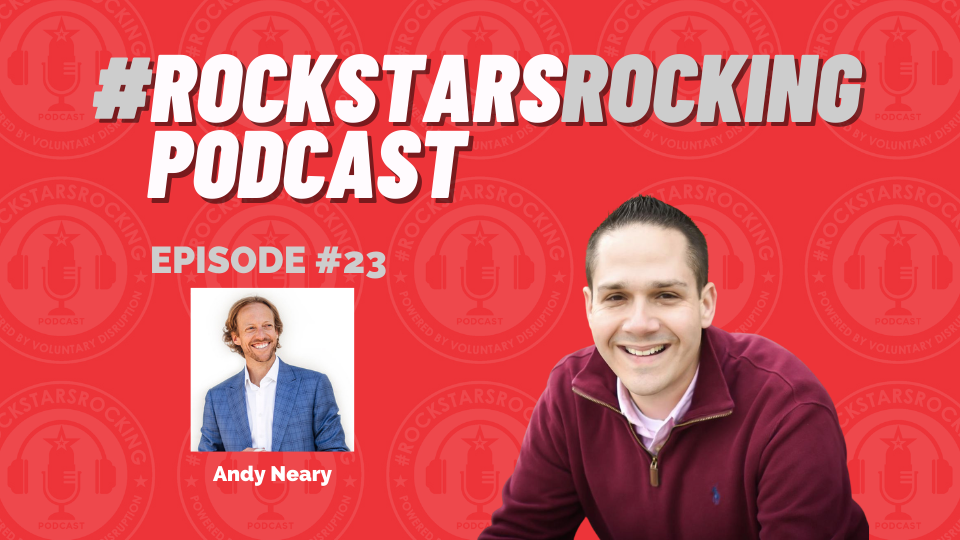 Podcast: Play in new window | Download
This episode of the #RockstarsRocking podcast features my rockstar friend, Andy Neary, Performance Coach, Keynote Speaker, Podcast Host, and Entrepreneur, out of Fort Collins, Colorado.
As a former professional baseball player, Ironman athlete, and 20-year veteran of the health insurance industry, Andy's learned the significance that mindset plays in achieving success.
Andy helps insurance and financial advisers master their daily habits and time-management skills "off the field" so they can dominate on it. He focuses on helping professionals stand out in their market using their personal brand, to create a clear brand message and one heck of a strategy to share it far and wide. He prides himself on the fact that he's not going to teach anyone a skill they don't already have, but rather, he's going to give them the clarity and mindset shift they need to win new business and make more money. As he says, "when clarity and confidence collide, massive action happens!"
In this week's episode, Andy and I talk about his road to the pros – from college to playing pro baseball in the Milwaukee Brewers organization and how all of this helped lead him to becoming the entrepreneur he is today. We even dive into the biggest make or break moment that all college and minor league athlete's face – time management, and how to fight against 'impostor syndrome'.
Tune in for all of this, and more, on this week's edition of the #RockstarsRocking podcast.
Episode Highlights:
Playing pro baseball in the Milwaukee Brewers organization
The biggest make or break for college and minor league players is time management
Fighting against imposter syndrome and feeling average
Becoming an entrepreneur and believing you are an entrepreneur
'Curtis Granderson' broke up Andy's "perfect game!"
So, I only have one question for you…?
Are you ready to rock…?!
Connect with Andy:
Website: http://www.andyneary.com/
Website: https://linktr.ee/AndyNeary
LinkedIn: https://linkedin.com/in/andyneary
Twitter: https://twitter.com/ANearyinCO
Email: aneary@theolsongroup.net
This Episode is Powered by:


Enjoy The Show?
If you haven't done so already, please make sure you're subscribed to the show, #RockstarsRocking, wherever you consume podcasts and if you feel so inclined, please leave us a review – 5 stars would totally rock!