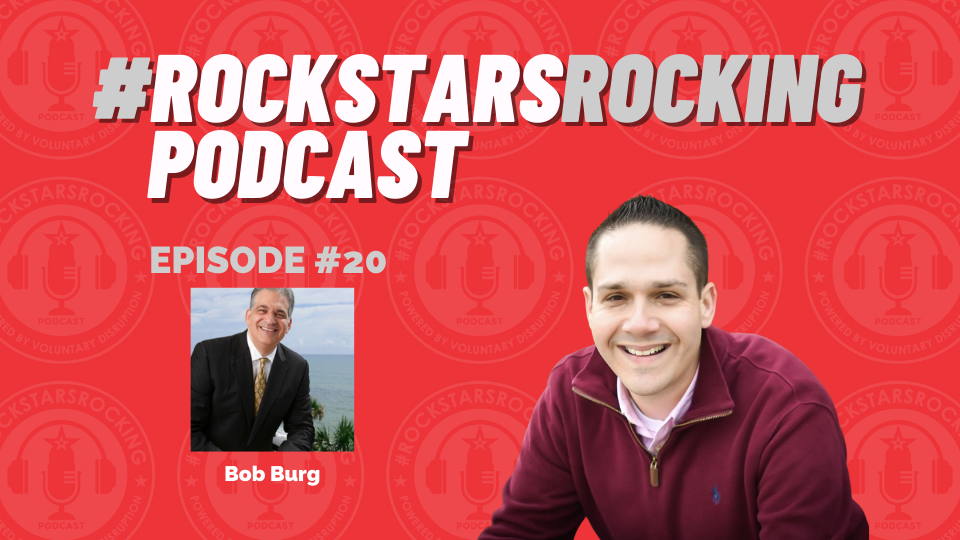 Podcast: Play in new window | Download
This episode of the #RockstarsRocking podcast features my mentor from a far, Bob Burg, World Renown Keynote Speaker and Multi-time International Best-Selling Co-Author, out of the Jupiter Florida area.
There aren't many folks I had on my list of potential guests that I was more excited about approaching, than Bob Burg. I was so grateful and honored when he accepted my invitation because I'm one of his largest fans and a self-proclaimed brand ambassador for he and his co-author, John David Mann's book series, "The Go-Giver".
The collective books that make up the "Go-Giver" series have sold millions of copies combined with the original book, "The Go-Giver", selling nearly a million copies on its own.
Bob has shared his powerful "Go-Giver" concepts in front of audiences ranging from 50 to 15,000 at hundreds of events, conferences, and professional gatherings worldwide. This includes sharing the stage with top business leaders, Olympic athletes, and even a former U.S. President.
In this week's episode we dive into the book that started it all, "The Go-Giver", and the first of Bob's five Laws of Stratospheric Success – The Law of Value. We also dig into how when something is split 50/50, it's a losing proposition and how being a "Go-Taker" is a much harder way to build relationships.
Tune in for all of this, and more, on this week's edition of the #RockstarsRocking podcast.
Episode Highlights:
The Law of Value" – where you give more in value than you take in payment
Money is to value, like thunder is to lightning, it is the "echo of value"
Being a "go-taker" – someone who's solely focused on themselves, making it much harder to build relationships and a business
50/50 is a losing proposition – your focus should always be on providing value to your customer/prospect, and you'll naturally receive value in return, even if not with that specific prospect
So, I only have one question for you…?
Are you ready to rock…?!
Connect with Bob
Website: http://www.thegogiver.com/
Website: http://www.burg.com/
LinkedIn: https://linkedin.com/in/bobburg
Email: bob@burg.com
This Episode is Powered by:

Enjoy The Show?
If you haven't done so already, please make sure you're subscribed to the show, #RockstarsRocking, wherever you consume podcasts and if you feel so inclined, please leave us a review – 5 stars would totally rock!