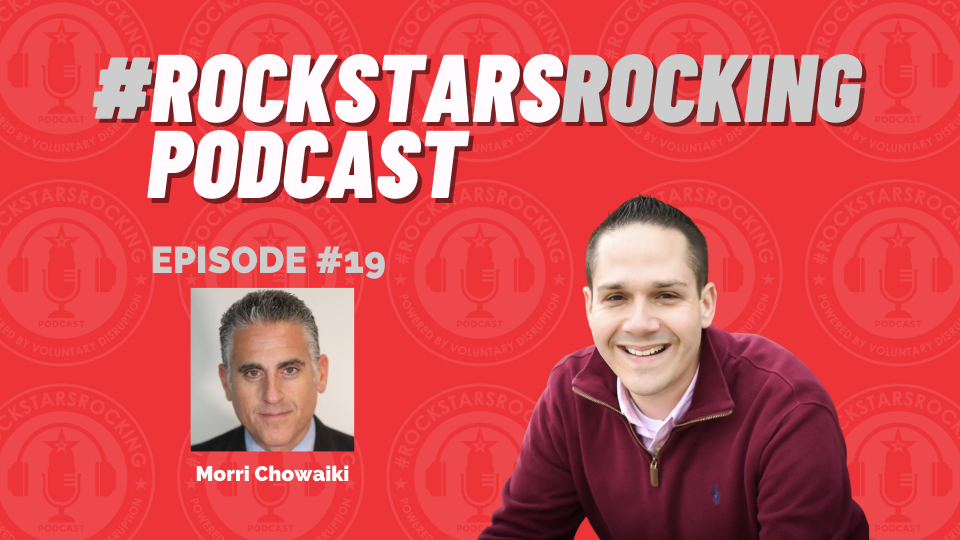 Podcast: Play in new window | Download
This episode of the #RockstarsRocking podcast features an incredible entrepreneur rockstar, Morri Chowaiki, Head of Sales and Retail for Daymond John and The Shark Group, out of the San Diego, California area.
You may recognize Morri from his appearance on ABC's hit show, "Shark Tank," during Season 5, Episode 12, which originally aired on December 13, 2013. Morri went into the tank seeking $50,000 in exchange for 15% equity in his 'Hanukkah Tree Topper' – the world's first patented "Menorahment". Morri left the tank with a deal from Daymond John for $50,000 in exchange for 35% of his company.
These days, Morri works directly with Daymond John as his head of sales and retail, managing well known corporate clients and talent, like, Amazon, Capital One, Miller Coors, Carlos Santana, Lil Jon, and Stan Lee just to name a few. To date, Morri is the first and only person to ever enter the tank and leave with a job working directly for a shark.
In this episode, you'll learn how Morri was able to parlay his appearance and deal on Shark Tank into a full-time career working directly with Daymond John. Trust me, it wasn't easy, and it involved relentless perseverance on the part of Morri along with him taking an even bigger leap of faith than it took for him to originally apply to be on Shark Tank!
Tune in for all of this, and more, on this week's edition of the #RockstarsRocking podcast.
Episode Highlights:
The long journey to appear on Shark Tank

"Happy Wife, Happy Life" leads to his breakout Hannukah Tree Topper going viral on Shark Tank

Using his business connections to stay relevant and on Daymond John's radar

Hoping to get fired – persistence, determination, and moonlighting pays off to land his dream job

Loving what you do can't be overstated
So, I only have one question for you…?
Are you ready to rock…?!
Connect with Morri:
Website: https://www.thesharkgroup.com/
LinkedIn: https://linkedin.com/in/morri1111
Twitter: https://twitter.com/MyTreeTopper
This Episode is Powered by:

Enjoy The Show?
If you haven't done so already, please make sure you're subscribed to the show, #RockstarsRocking, wherever you consume podcasts and if you feel so inclined, please leave us a review – 5 stars would totally rock!