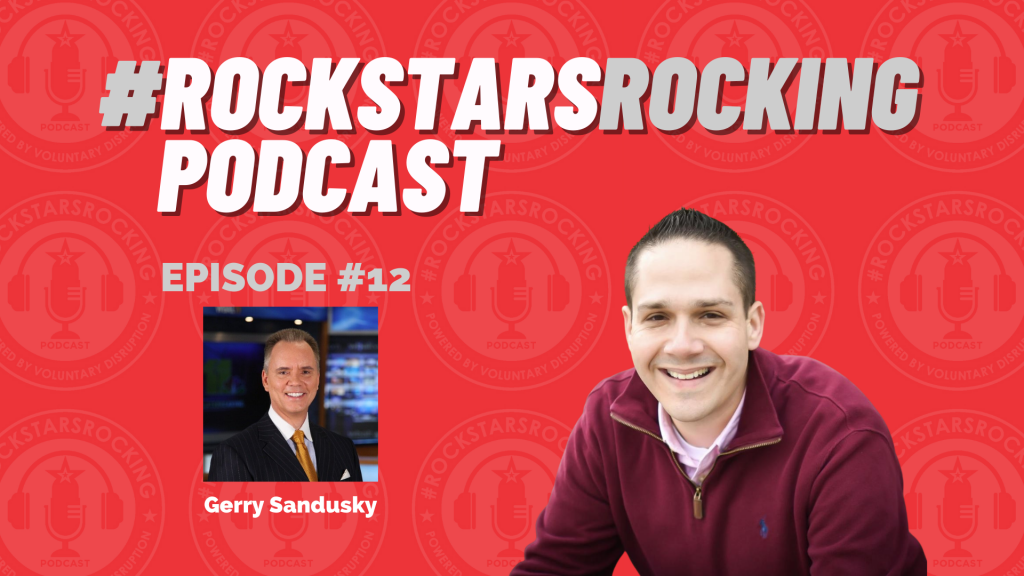 Podcast: Play in new window | Download
This episode of the #RockstarsRocking podcast features my friend and favorite TV news personality, Gerry Sandusky, the On-Air TV Sportscaster on WBAL-TV 11 in Baltimore, the Play-by-Play Voice of the Baltimore Ravens, and President of The Sandusky Group, out of the greater Baltimore area.
By the way, it's Gerry with a "G," NO relation to the former Penn State coach. And no, you're not the first to wonder!
I first discovered Gerry when I moved to the Baltimore area to go to college and quickly realized Gerry is the go-to source for all things sports and NFL Ravens football in Baltimore, where he's become a Baltimore area celebrity by consistently showing up in Baltimore living rooms for more than 30 years as the on-air TV sportscaster, and in millions of cars, as the play-by-play voice of the Baltimore Ravens for the last 15 years.
Gerry's got an incredibly interesting life-story, too much to unpack in a 20 minute episode, but to give you some more perspective of where his passion for sports came from, Gerry grew up on the sidelines in the NFL – his dad, John Sandusky, coached with Don Shula for decades.
In this week's episode, Gerry helps us understand the difference in communicating in our now, 2D world, vs. the 3D reality that we're all used to. Being that Gerry has spent the better part of more than 30 years behind the camera, he's certainly the authority we can learn from when it comes to how to develop relationships, advise, and sell on camera.
Tune in for all of this, and more, on this week's edition of the #RockstarsRocking podcast.
Episode Highlights:
Rules of communicating in a 2D world of Zoom, when you're used to a 3D boardroom

Knowing the difference between a being a 'Leader' and a 'Coach'

The psychology of knowing that your audience is your biggest support system – they are invested in you being good

Social Media not about being "perfect", it's about "being there consistently and being consistent when you're there"
So, I only have one question for you…?
Are you ready to rock…?!
Connect with Gerry:
Website: http://www.gerrysandusky.com/
Website: https://www.trigger123.com/home
LinkedIn: https://linkedin.com/in/gerrysandusky
Twitter: https://twitter.com/GerrySandusky

This Episode is Powered by:

Enjoy The Show?
If you haven't done so already, please make sure you're subscribed to the show, #RockstarsRocking, wherever you consume podcasts and if you feel so inclined, please leave us a review – 5 stars would totally rock!