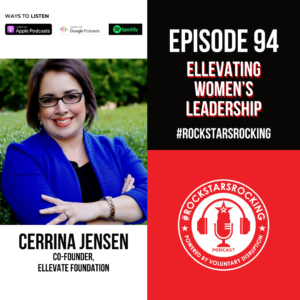 This episode of the #RockstarsRocking podcast features my longtime friend, rockstar Cerrina Jensen, Co-founder of the Ellevate Foundation and Benefits Consultant with Solv Independent Insurance Associates out of the Greater Sacramento, California area.
We dive right into our episode with Cerrina detailing how getting laid off from a former company lead to her career in employee benefits, specializing in micro-groups. She then discusses starting Stellar Stories as a 'side hussle' which became even more successful than she expected. The Ellevate Foundation and the Women's Leadership Summit make up the bulk of our talk, as we go through how and why she co-founded Ellevate, how they put on a successful summit every year, and how men can also be allies to the Women's Leadership Summit through the Mars Squad.
So, are you ready for more? Go ahead and grab your favorite ice-cold beverage and tap that play button, to tune in to this week's edition of the #RockstarsRocking podcast.
Episode Highlights:
How getting laid off lead to her start in the employee benefits field, selling to micro-groups up to 10 employees
Starting Stellar Stories as a side hustle and becoming independent
Co-Founding the Ellevate Foundation & Women's Leadership Summit
The men who support Ellevate through the Mars Squad
Growing the summit with the help of supporters who believe in the cause
So, I only have one question for you…?
Are you ready to rock…?!
Connect with Cerrina:
Website: https://ellevatefoundation.org/
Website: https://stellarstoriesonline.com/
LinkedIn: https://www.linkedin.com/in/cerrinaj/
Email: cerrinaj@solvins.com

This Episode is Powered by:

Enjoy The Show?
If you haven't done so already, please make sure you're subscribed to the show, #RockstarsRocking, wherever you consume podcasts and if you feel so inclined, please leave us a review – 5 stars would totally rock!