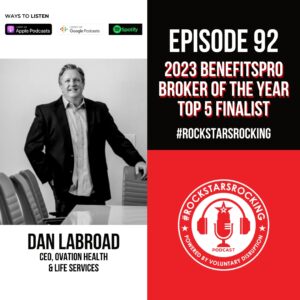 This episode of the #RockstarsRocking podcast features my good friend, rockstar Dan LaBroad, CEO of Ovation Health & Life Services of out of Plano, Texas.
Dan opens with telling us how he deleted the email telling him he was a BenefitsPRO Broker of the Year Top 5 Finalist and how he resisted joining the Mastermind group officially, before learning how much it helped him. He then digs into his opportunity to create the Lone Star Counsel to bring together business leaders in Texas. We round out the interview with how he makes his own space in the business, how creating a flu clinic service let him see the health industry from both sides, and how he's learned to balance relationship, both personally and professionally.
So, are you ready for more? Go ahead and grab your favorite ice-cold beverage and tap that play button, to tune in to this week's edition of the #RockstarsRocking podcast.
Episode Highlights:
Deleting his announcement email for BenefitsPRO Broker of the Year Top 5 Finalist
Joining Mastermind and the knowledge he's learned leading to closing clients
Closing clients by being everywhere
Creating the Lone Star Counsel to bring business leaders together
What differentiates him from the rest of the pack
Building a Flu Clinic service & finding out how carrier inconsistencies lead to overspend
Nurturing relationship both personal and professional
So, I only have one question for you…?
Are you ready to rock…?!
Connect with Dan:
Website: https://ovationlife.com/
LinkedIn: https://www.linkedin.com/in/dlabroad
Email: daniel@ovationlife.com

This Episode is Powered by:

Enjoy The Show?
If you haven't done so already, please make sure you're subscribed to the show, #RockstarsRocking, wherever you consume podcasts and if you feel so inclined, please leave us a review – 5 stars would totally rock!