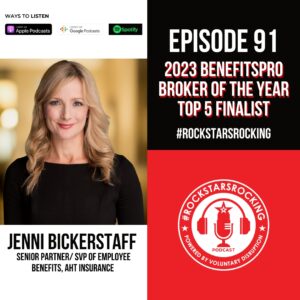 This episode of the #RockstarsRocking podcast features rockstar Jenni Bickerstaff, Senior Partner/ SVP of Employee Benefits at AHT Insurance of out of the Northern Virginia area.
We dive straight into our episode talking about being recognized at a BenefitsPRO Broker of the Year Top 5 Finalist and her work to be a mentor for others. She gets into the challenges and opportunities of working with international clients, how she was able to continue to grow her business and keep clients during the pandemic, as well as why it's important to know multiple parts of the health industry to be a better at her job. We round out with a look at the specifics of what products are hot, what's upcoming, and how she's created a winning communication strategy for her clients.
So, are you ready for more? Go ahead and grab your favorite ice-cold beverage and tap that play button, to tune in to this week's edition of the #RockstarsRocking podcast.
Episode Highlights:
Being recognized as a BenefitsPRO Broker of the Year Top 5 Finalist
Coming up in the Insurance industry and trying to be a mentor for others
Being a better insurance agent by knowing many different aspects of the medical field
How working with international clients presents its own opportunities and challenges
How she was still able to grow business during Covid
New products that clients are asking for
Communication and driving employee engagement
So, I only have one question for you…?
Are you ready to rock…?!
Connect with Jenni:
Website: https://www.ahtins.com/
LinkedIn: https://www.linkedin.com/in/jenni-bickerstaff-8650637/
Email: jbickerstaff@ahtins.com

This Episode is Powered by:

Enjoy The Show?
If you haven't done so already, please make sure you're subscribed to the show, #RockstarsRocking, wherever you consume podcasts and if you feel so inclined, please leave us a review – 5 stars would totally rock!