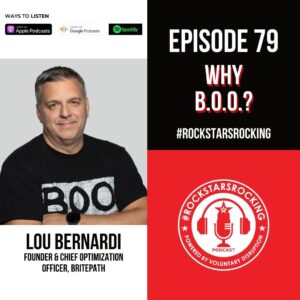 This episode of the #RockstarsRocking podcast features rockstar guest Lou Bernardi, Founder and Chief Benefit Optimization Officer of BritePath, out of the Long Island, NY area.
Join us for a great, in-depth conversation about the state of the current healthcare industry. We start our conversation with Lou telling us how he requested to get booed off stage at a recent conference and why that was a great thing, as he wants to lead health insurance change as a Benefit Optimization Officer. From that amusing story, we get right into why we need to optimize benefits, as the healthcare industry is intentionally opaque and does not want informed consumers. Lou talks about having to self-reflect on the change he wanted to make as he left the GA world and lifted the cover on the issues with current insurance industry practices and "hidden profit centers". He finishes up with ways he's fighting back, through care options like Direct Primary Care programs and internal education through his show "Benefits With Friends", live weekly on LinkedIn and podcast platforms.
So, are you ready for more? Go ahead and grab your favorite ice-cold beverage and tap that play button, to tune in to this week's edition of the #RockstarsRocking podcast.
Episode Highlights:
Getting booed off stage – and why that was a great thing
Educating clients to not get sold what they ask for, but what they need
The healthcare industry does not want informed consumers
Leaving the GA world and realizing there is a better way for employers to find solutions
Health carriers must evolve or become obsolete
How Direct Primary Care can provide an alternative for better primary care
"Benefits With Friends" Show/Podcast live on LinkedIn and podcast platforms
So, I only have one question for you…?
Are you ready to rock…?!
Connect with Lou:
Website:  http://www.groupplannersinc.com/
LinkedIn: https://www.linkedin.com/in/lougpi2
Twitter: https://twitter.com/Lougpi2
Email: lcbernardi@groupplannersinc.com

This Episode is Powered by:

Enjoy The Show?
If you haven't done so already, please make sure you're subscribed to the show, #RockstarsRocking, wherever you consume podcasts and if you feel so inclined, please leave us a review – 5 stars would totally rock!