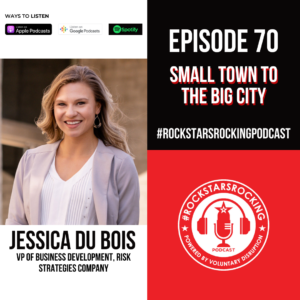 This episode of the #RockstarsRocking podcast features a young rockstar taking the benefits industry by storm – Jessica Du Bois, Vice President of Business Development at Risk Strategies Company, out of the Northern Virginia area, is going to blow your mind!
We launch right into our interview today with a discussion of how you create your perception or brand on social media, from sticking with a schedule to generate results, to making sure you're not putting out negativity, especially on posts that aren't meant for you. We then take a quick jump back to go through how she got her start in the industry, and her journey from being a "glorified account manager", to really recognizing her own voice and brand.
The second half of our interview explores how marketing can make or break an employer's benefits strategy, not only during open enrollment, but also throughout the year with attracting potential employees. We then finish up with a teaser of what to expect with her upcoming talk at the next BenefitsPRO Broker Expo.
So, are you ready for more? Grab your favorite ice-cold beverage and get comfortable as you tap that play button, to tune in to this week's edition of the #RockstarsRocking podcast.
Episode Highlights:
Creating the perception of yourself on social media
How doing a 'Study Abroad' program in college put her on the path to insurance
Recognizing her value and opportunity in being a young, female broker to find her niche
Helping employers' market to prospective employees, and get engagement out of existing employees
Jessica's go to strategies and technology for getting great employee engagement
Getting to speak at the upcoming BenefitsPRO Broker Expo
So, I only have one question for you…?
Are you ready to rock…?!
Connect with Jessica:
Website: https://www.risk-strategies.com/learnmore
Linkedin: https://linkedin.com/in/jesdubois
TikTok: https://www.tiktok.com/@alilbitofjessica
Email:  jdubois@risk-strategies.com
This Episode is Powered by:

Enjoy The Show?
If you haven't done so already, please make sure you're subscribed to the show, #RockstarsRocking, wherever you consume podcasts and if you feel so inclined, please leave us a review – 5 stars would totally rock!