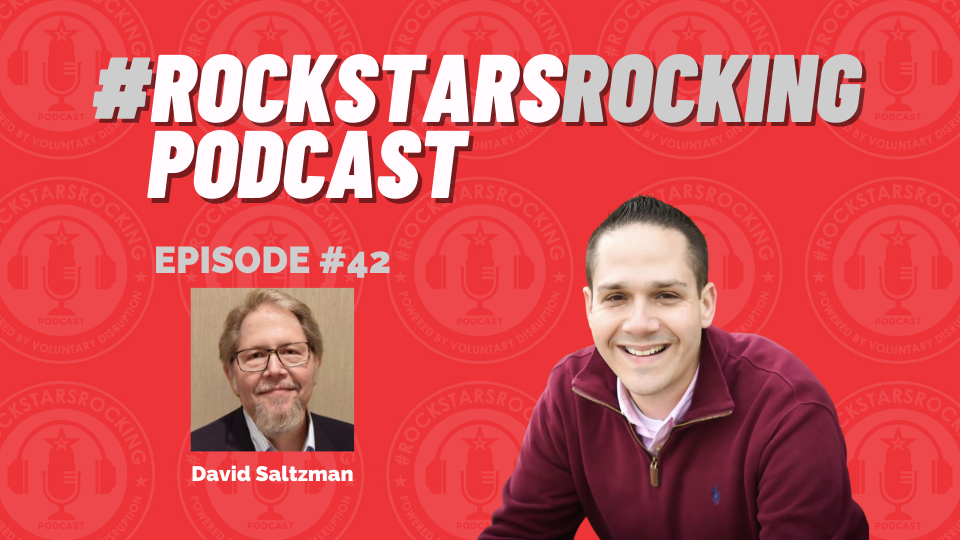 Podcast: Play in new window | Download
This episode of the #RockstarsRocking podcast features my rockstar friend and podcast mentor from afar, David Saltzman, Host of the ShiftShapers Podcast and Chief Transformation Strategist at ShiftShapers Strategies, out of Knoxville, TN. 
David's podcast, ShiftShapers, was the very first podcast I ever listened to and really gave me the thought that I may want to start my own podcast someday. Coincidently, the first podcast I was ever invited to be a guest on, was David's ShiftShapers podcast. Since then, I've been interviewed on multiple other podcasts but there's just something about David's style and technique that always reminds me that his way of doing things is exactly how it's supposed to be done – after all, and as the saying goes, you always remember your first. 
David has been in the insurance and employee benefits space for more than 35 years. For most of those years, David has been on the marketing side – helping sales professionals and agency's start, support, and grow their marketing efforts so they can stand out in a very crowded and noisy industry. 
In this week's episode, we dive into how David got started with his podcast journey, his philosophy when having a conversation with his guests, and his passion to become a certified 'StoryBrand' guide using Donald Miller's best-selling book, "Building a StoryBrand" as his ultimate guide. 
So, grab your favorite beverage of choice, click that play button, and get ready for this week's edition of the #RockstarsRocking podcast. 
Episode Highlights: 
How recognizing the need for getting information out to insurance agencies was the catalyst that helped launch his ShiftShapers podcast

Learning to let his guests do the talking and using his mistakes as a growing experience

You can't sell to someone by making yourself the main character, you must tell the prospect their story

Becoming a certified 'StoryBrand' guide using Donald Miller's best-selling book, "Building a StoryBrand"

Using StoryBrand as his ultimate guide to teach salespeople how to make their prospects the "hero of the story"  
So, I only have one question for you…? 
Are you ready to rock…?!
Connect with David:
Website: http://www.shiftshapersstrategies.com/
LinkedIn: https://linkedin.com/in/davidasaltzman
Email: david@shiftshapersstrategies.com
This Episode is Powered by:

Enjoy The Show?
If you haven't done so already, please make sure you're subscribed to the show, #RockstarsRocking, wherever you consume podcasts and if you feel so inclined, please leave us a review – 5 stars would totally rock!