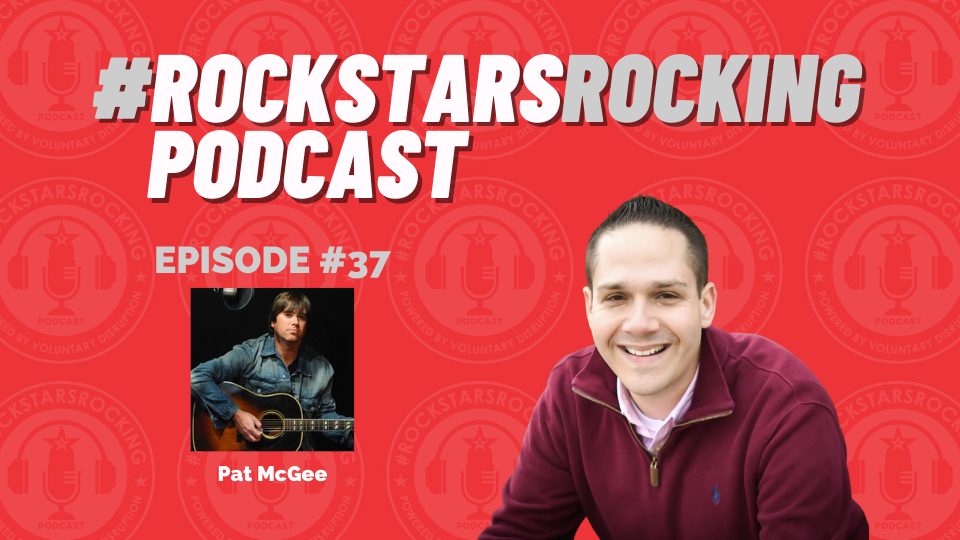 Podcast: Play in new window | Download
This episode of the #RockstarsRocking podcast features my ACTUAL rockstar friend, Pat McGee, Leader of the "Pat McGee Band", originally hailing from Richmond, VA, and now living in Rhode Island.
My wife and I have been following Pat McGee and his bandmates since college, so it was a total blast to have Pat on the show. He's literally, the first real "rockstar" to be a guest on the #RockstarsRocking podcast!
In this week's episode, we dive into so much material that anyone in the business world can actually appreciate it. The reality is that a band starting out and touring across the country is really no different than an aspiring entrepreneur starting a new business and going appointment to appointment to share their product or service with potential customers or clients. In Pat's case, he and his music are the product, and he has to create an incredible fan experience no different than a business has to create a memorable customer experience that makes them want to continue to come back for more.
For those who may not be aware of the Pat McGee Band (PMB), here's a little scoop to fill you in. They've been a band for 25 years and they've acquired a pretty fanatical popular following. So popular in fact that they've sold more than 100,000 copies of their first few albums, which quickly caught the attention of Warner Bros. Records. PMB signed with Warner Bros. in the late 90's and at one point in their ten-year touring stint, they played a remarkable 98 concerts in a period of 103 days. They've shared stages with The Who, The Allman Brothers, James Taylor, and many more, and also achieved the ultimate honors of performing for President Bill Clinton, touring with the USO and sharing their songs onboard the USS Eisenhower with 5,000 servicemen and servicewomen serving a tour of duty in the Arabian Sea.
If you're not yet familiar with PMB, do yourself a favor and check out their tunes on Spotify or Amazon Music, (after you listen to this interview of course) or anywhere else you consume digital tunes these days. When you enjoy the delicious and tasty sounds of PMB as much as I'm certain you will, be sure to purchase an album or some merch, and help support independent artists.
So, whether you're into Pat McGee's genre of music or not – let's crank the volume up to 11 and get ready to rock with all of the highlights listed below, and so much more, on this week's edition of the #RockstarsRocking podcast.
Episode Highlights:
Long-time fans and tapping into the nostalgia of the older original songs they love
Getting started as a solo acoustic cover artist in college, playing the local college scene
Adapting and coping with the Covid pandemic shutting down live music across the country
Changing bandmates over the years and how they blend in new and old members
Signing with Warner Bros. Records and learning how hard it is to break into the top tier of music
Mentoring the next generation of musicians, but staying out of the managing side
Whether he would have tried out for American Idol or The Voice, had that been an option when the band was gaining traction
So, I only have one question for you…?
Are you ready to rock…?!
Connect with Pat:
Website: https://patmcgee.net/
Website: https://www.instagram.com/PatMcGeeBand/
LinkedIn: https://linkedin.com/in/pat-mcgee-20487038
Twitter: https://twitter.com/patmcgee
Email: phmcgee1973@gmail.com
This Episode is Powered by:

Enjoy The Show?
If you haven't done so already, please make sure you're subscribed to the show, #RockstarsRocking, wherever you consume podcasts and if you feel so inclined, please leave us a review – 5 stars would totally rock!