Raise your hand if you've ever had an enhanced benefits (formerly known as voluntary benefits) open enrollment not go exactly as you envisioned or would have liked. If you're one of the few who has never had this happen and you have a perfect open enrollment season score, then I applaud you with a raised and very suspicious eyebrow.
For the rest of us, including yours truly, I can assure you that having enhanced benefits open enrollments go awry, for one reason or another, is not uncommon in the least, and the great news is that I can help.
Some questions to ponder:
How do you approach open enrollments?
When do you begin preparation?
What is the methodology behind the way in which you prepare — that is to assume that you even have one?
Sadly, I've seen many open enrollments either missed completely, "forgotten," or believe it or not, ignored on purpose. As shocking and alarming as those scenarios may seem — anyone who's ever led an army of 1099 sales professionals can most likely relate to my experiences.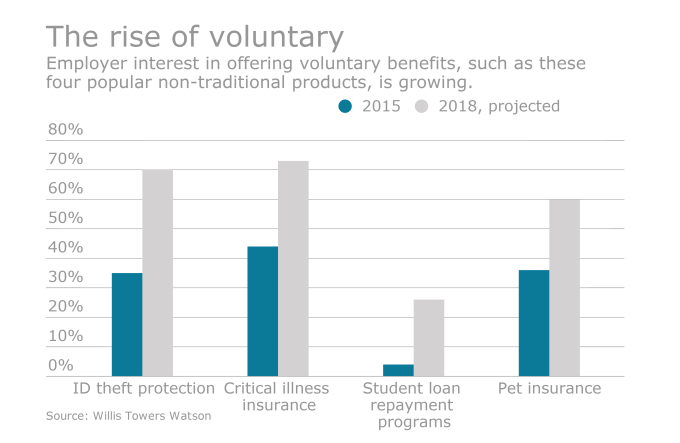 Over the course of my career I've had the privilege of overseeing thousands of open enrollments conducted by many hundreds of insurance agents. Through trial and error, I can boil successful open enrollments down to the following very simple and basic open enrollment best practices.
1) Service = future sales
Do you have a committed system in place to ensure excellent after-the-sale service? We're all busy, and I realize that at times it's very hard to see the proverbial forest through the trees — especially when you're focused so heavily on closing and enrolling new cases to shatter your quota and finish your month strong.
I was taught that service equals sales because of the opportunity that can be created to earn introductions and referrals to new accounts via the business owner and executives you closed the account with. While I agree that's important, I think it's very often overlooked that your post-sale service with each employee participant is equally, if not more important to your future sales, particularly if your goal is to have a successful open enrollment with minimal employee cancellations and maximum new enrollees each year.
After all, let's face facts. Who are your actual customers? Sure, you won't have an open enrollment to concern yourself with if the owners and executives aren't delighted, but need I remind you that you won't care to have an enrollment if you have no interest, support or buy in from the end user — the employees who you're asking to spend their hard-earned money? Never lose sight of service and how impactful it is on future sales, not to mention the positive employee-to-employee word of mouth that goes along with great service. Or conversely, the negative employee-to-employee word of mouth that spreads even faster with poor or non-existent after-the-sale service.
2) Wellness and claims day
Oftentimes in our industry we have countless employees lining up to cancel their enhanced benefits because they "haven't used them" and no longer feel they need them. I'm sure you're familiar with how this conversation goes, but no matter what you say or how you say it, you still encounter these situations. If not handled properly and with a delicate touch, these unhappy and oftentimes misinformed employee clients can steer your open enrollment off course before you even have a chance to get started.
I borrowed a simple fix from a well-respected colleague many years ago that makes a lot of sense and works very well. At least a month before the actual open enrollment meetings are supposed to begin, set up a "wellness and claims" day where you go onsite and in person to make yourself available to help answer questions and file claims for your employee clients. Since many of the products in the marketplace offer "wellness benefits" that employees are eligible for regardless of getting hurt or sick, these products work very well to ensure that employees are reminded of the value that these products bring to them, even if they're not using the product for the intended reason they enrolled in the first place. This is also a great day not only to help answer questions and help file other claims, but it's also a great time to probe employees for additional claims they may not be aware they could file or typically didn't remember they had coverage for.
For larger or mega-sized cases, I'd suggest you do these "wellness and claims" days at least once a quarter, if not once a month. For smaller cases, once a year or even every six months, still makes a lot of sense. Don't forget that if your client has multiple locations, it's important you or someone from your administration and claims team does one of these wellness and claims days at each location. You don't have to spend an entire day at each client location. The timing should be based on how large the employee population is at each location, and if it's a very large employer, you may even want to consider spending a couple days with varying hours.
Not only does this help with "service = future sales" while building tremendous goodwill, but when timed properly, the claims will be filed, and checks will be direct deposited or in the hands of your employee clients just before you're back for the actual benefits open enrollment, thus defusing the potential cancelation requests due to employees telling you they "haven't used" their policies and no longer feel they need them.
Pro tip: There is absolutely no selling to be done on this day. This is only a service and support day. If you start selling and enrolling on this day, the perception of why you're there will be greatly skewed and likely interpreted in a negative context, thus defeating the purpose for why you're really there.
3) Treat each group client as a new warm lead
Re-book an appointment with the owner, executive group, and HR the same way that you would if you were courting them to be a new client.
Re-diagnose, and ask poignant questions to uncover their new "needs" properly; so that you can adapt and adjust to what their new challenges may be for the year ahead.
Re-sell the group on exactly why they told you 'yes' in the first place, and remind them of all the positive and great things you promised them, and how you have delivered.
Re-create value for the current and existing products and services you provide while introducing and offering new and creative solutions to enhance what you already do for them — keeping the groups already-expressed "needs" as the forethought for everything you propose.
Re-set up the open enrollment with the exact working conditions and employer buy-in that you would ask for and need for a new group that's never had an enhanced benefits enrollment.
By following these three best practices for open enrollment success, you not only show your clients, both employer and employees, that you're a professional, but you also illustrate a consistent path for how you operate and what your clients can expect from you year in and year out.
Planning to give this a shot? Let me know if you have any questions, and don't forget to please share your feedback and success stories. Happy hunting!