---
When it comes to creating a new vision of voluntary benefits where the products play a central role in the lives of employees and the employers who offer them, Eric Silverman is practicing what he preaches. Just last month, the Maryland-based consultant changed the name of his company to reflect the prominence and perspective he'd like to see these benefits hold in the workplace.
Formerly Silverman Benefits Group, his boutique consulting firm is now known as Voluntary Disruption. The new name emphasizes Silverman's commitment to reshaping the role of voluntary benefits — or as he calls them, "enhanced benefits" — in today's marketplace.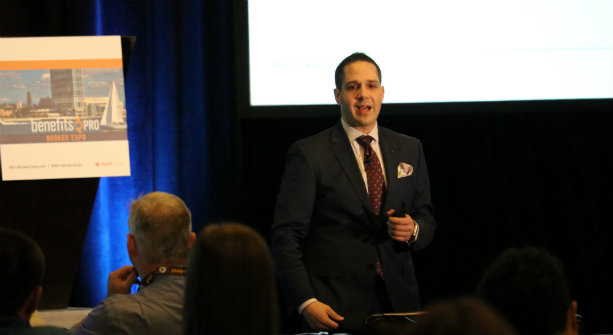 Silverman discussed his view during his session, "Voluntary Disruption," at April's BenefitsPRO Broker Expo in San Diego. He started the presentation with three big-picture questions for advisers to consider:
What would their voluntary business look like if they changed just one-third of their business plan to better reflect today's employee benefit environment?
Is their view of voluntary benefits simply following the status quo?
Are they taking the same approach to voluntary sales as they did many years ago?
"I would argue that the most influential disrupter to our industry must be the willingness of the broker community at large to adjust, adapt and embrace our ever-changing model," Silverman said.
When Silverman first met adviser David Contorno, president and CEO of Lake Norman Benefits, based in Mooresville, North Carolina, his view of voluntary was similar to that of other advisers, Silverman recounted. Contorno didn't hate the concept of voluntary products or dispute the value of and need for them, but he was not happy with the distribution channel.
"He hated the way the largest carriers market and distribute voluntary and have cold-callers calling businesses all across the country," Silverman said. "It's really the same sentiment every broker has."
Brokers typically fall into four distinct voluntary categories, Silverman said:
Ignore the products unless a client asks about them;
Outsource sales to a single carrier;
Hire an in-house VP of voluntary or equivalent position;
Partner with a carrier-agnostic firm.
In order to move reluctant advisers and employer clients away from viewing voluntary benefits through the lens of "status-quo" products, Silverman noted word choice is paramount in discussing the benefits. "Terminology and verbiage matters," he said.
For example, using words such as "voluntary," "ancillary" and "supplemental" to describe the products puts them in a negative light by implying they're outside of a main business function. In contrast, Silverman point out that the word "enhanced" is defined as "intensify, increase or further improve the quality, value or extent of."
Long-term strategy 
Instead of a typical "product dump that leads to a commission grab" — and provides no real substance for employees — Silverman advised attendees to outline and develop a long-term enhanced benefits employer strategy.
In summary, he said, the strategy should consist of:
A mission to shop and analyze the market.
A goal to discover best-in-breed products and services.
A search for findings about the competitiveness of the market, including most-favored benefits by employers and employees.
A proposed solution that includes a strategy complementing the existing health plan design that avoids wasteful employer and/or employee overspending.
A plan of action for the next steps moving forward.
Next, Silverman challenged brokers to question themselves and what's happening in their business. Most health brokers are agnostic when it comes to insurance carriers but more often than not, will work with one specific insurer when it comes to voluntary. "When you aggressively shop the market for health insurance, why wouldn't you do it for the voluntary business?" he asked. "It makes absolutely no sense."
Developing a customized strategy and implementation plan can be very laborious, Silverman noted, which is why many advisers don't bother. But, to overcome that inertia, he recommended looking at voluntary benefits from a defined contribution, "benefits shopping spree" perspective. He said "the right enhanced benefits partner will make an advisers life simple when it comes to shopping, analyzing, and installing properly designed bespoke enhanced benefits."
Most traditional enhanced benefits include disability, term life, dental and vision. Meanwhile, "core" enhanced products consist of accident, hospital, critical illness and life with a long-term care rider. Meanwhile, he said the up-and-coming products brokers should be looking into are telemedicine, ID theft protection, student loan repayment, payday loans, split direct deposit and pet insurance. "They're getting bigger and bigger by the day," he added.
How to compete 
Meanwhile, advisers who aren't paying attention to voluntary are being eclipsed by those who are using the products to get a foot in the door with their clients' businesses, Silverman said. They're being cold-called on a daily basis by both "aggressive carrier reps" and health broker competition. The "good ol' boy" network isn't going to be enough to maintain business, he added.
To combat this, smaller brokerages can compete directly with larger firms that often use their size as an intimidation factor, Silverman said, by partnering with an outside expert. Some of the key questions he outlined that advisers should ask of a potential enhanced benefits partner include:
Will you or your sales reps compete directly with me?
Who do you represent, yourself or me?
Are you carrier agnostic?
Do you use shelf product and product dump?
Do you create and customize plans and ensure they dovetail with my health benefit strategy?
Do you provide access to a single point consolidated invoice? Do you charge extra for it?
Do you handle initial strategy to service and claims?
Can you handle multi-location and multi-state enrollments?
Do you have an enrollment arm with vetted, agnostic counselors who are bilingual?
What kind of enrollment platform do you use? Do you charge extra for it?
Do you provide access to ben admin and HRIS systems for the broker and the employer?
Do you have enrollment tools such as auto-schedulers, ringless voicemail, text messaging and videos? Do you charge extra for it?
Are you fully transparent with every aspect of enhanced benefits?
Do you have industry-best contracts for compensation and underwriting?
Do you audit enhanced benefit compensation?
Do you share compensation, including renewals, from the top down?
Do you share carrier bonuses and allow brokers to earn their own?
"A good broker partner is not only going to share their bonuses, but they're also going to let you earn your own," Silverman said.
He ended with several case studies about employers with typical issues, such as compensating for low wages, competing with similar firms, dealing with too many products and too-high premiums and a desire to move to an online system. The solution, he said, was to develop strategies that address each employer's specific concerns which resulted in delighted employers, employees and brokers who now have customized, easily administered products that produce substantial new revenues.
Paraphrasing Albert Einstein, Silverman concluded "We cannot solve our problem with the same thinking we used when we created them."